Homes at a price that's right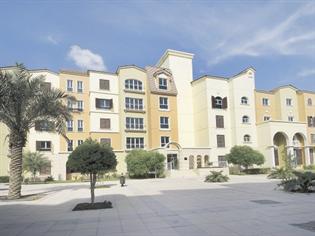 Property-hunters looking for an investment opportunity could turn their attention to Nakheel's Discovery Gardens, where prices have seen a reverse since handover in February last year.

Studios in the community, near Ibn Battuta Mall, are currently selling for between Dh555,000 and Dh600,000 and one-beds are in the region of Dh750,000, a drop of between 10 and 15 per cent.

Real estate agency Better Homes, which compiled the figures, said Discovery Gardens remained popular with buyers due to its affordability and easy access to Sheikh Zayed Road.

Property services firm Asteco said studios in Discovery Gardens were on sale for Dh750 to Dh1,000 per sq ft for the first quarter of this year, compared to between Dh800 to Dh1,200 per square foot in the same period last year.

Andrew Chambers, Managing Director of Asteco, said Discovery Gardens was attractive to the mid-income segment of the population – bachelors, couples and small families – due to its relatively low prices, compared to other developments in the area, including Jumeirah Lake Towers, Dubai Marina and Jumeirah Beach Residence.

He said the generous unit sizes, community feel and location were also a much sought-after attraction.

This means prices in Discovery Gardens are higher than in International City – another affordable Nakheel development built to similar standards, he added.

"Price levels in Jumeirah Lake Towers are similar to those in Discovery Gardens, but as it continues to be a construction site it is less appealing," said Chambers.

"Due to the global turmoil and associated job losses, Discovery Gardens has experienced an outflow of residents to cheaper areas while others have left the country altogether, resulting in a decrease in sales prices and rental rates. Demand for rentals is still high and once lending conditions relax, transaction activity will increase."

The majority of properties in Discovery Gardens were handed over in February last year and about half of all units in the development have already been occupied according to Better Homes.

The 26 million sq ft project is near Jebel Ali Free Zone and the Emirates Hills communities and within a short driving distance of the new Dubai Marina Mall. It has easy access to Dubai's two arterial roads – Sheikh Zayed Road and Emirates Road – and to Dubai Metro at Ibn Battuta Mall when the RTA opens its first line this year.

A Nakheel spokesman said a majority of Discovery Gardens' residents were tenants rather than buyers – meaning it was still an attractive proposition for investment.

However, leasing prices in the project have dropped in recent months, according to Better Homes. The agency said studios were currently renting for Dh55,000 a year from as much as Dh75,000 previously. One-bedroom flats rent for Dh78,000, down from Dh115,000, and two-beds were Dh95,000 a year, a slide from Dh140,000.

A Better Homes spokesman said rental prices in Discovery Gardens were now also negotiable – a change from only a few months ago – keeping the development popular with residents looking for affordable living.

"The development is almost complete. About half of the units in Discovery Gardens are occupied, which is testament to its popularity. It offers great family and community living, you can hear birds chirping – it's very peaceful," the spokesman said.

The project is inspired by Nakheel's The Gardens development and boasts 'green living' with much of the land given over to landscaped gardens.

The development is grouped into six themed communities – Zen, Mediterranean, Contemporary, Cactus, Mogul and Mesoamerican – that are collectively made up of 291 buildings with more than 26,000 studios, one- and two-bedroom apartments. The largest two-bed is about 1,614 to 1,646 sq ft.

Nakheel has said the development, which was launched in 2004, aimed to offer affordable housing to the city's expanding population, providing homes for nearly 60,000 people. Discovery Gardens will have four mosques – one of which is now complete – as well as six tennis and basketball courts and 13 swimming pools that will be operational in the next few months.

Home from Home

When Anna Michaelson moved into Discovery Gardens following her relocation from London to Dubai four months ago, she was not expecting the rent on her new apartment to fall.

The 27-year-old media executive and her husband signed a one-year contract on a one-bedroom flat at Dh105,000 and have since watched rental prices drop. Their apartment is now renting for about Dh85,000 a year, Michaelson said.

"We got the apartment through a private contact so we didn't have to pay a big commission to estate agents, and ours was one of the cheaper prices then – some other people were asking Dh115,000 for a one-bed. But in the past six weeks we've seen prices go down dramatically."

However, Michaelson hopes to stay in the development after the contract runs out.

"We moved to Dubai and wanted to live somewhere that wasn't a high rise, had nice outside space, and that wasn't in a developing phase. Discovery Gardens has beau-tiful landscaped gardens and a swimming pool, as well as tennis courts. We're hoping to renegotiate when it comes time to renew our contract for next year," she said.
Follow Emirates 24|7 on Google News.