It's a buyers' market as prices slide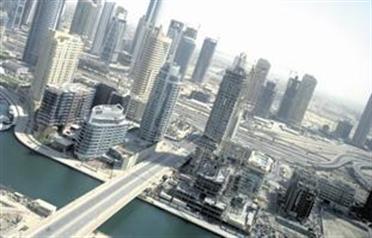 For anyone considering buying real estate in Dubai, there could be no better time than this year.

Research by Landmark Advisory has found that as the effects of the global financial crisis continue to be felt locally, housing prices could fall an additional 30 per cent. And, contrary to the widespread speculation, there is still sufficient liquidity in the market and high interest in opportunistic real estate investments.
The majority of this capital is waiting for the bottom, the Landmark report said, which is likely to be found only once financing has resumed. Recovery in the property market will largely be a function of credit availability, lending rates, and overall global and local economic performance, the report added.

However, warehouse sales prices will buck real estate trends and rise by 30 to 40 per cent this year, as its market continues to be undersupplied and manufacturing grows, Landmark Advisory reported. Other asset classes will suffer significant drops, it added.

Villas are expected to stay resilient this year with a maximum drop of 10 per cent in sale prices, while apartment sale prices could drop 20 per cent. Villa and apartment leasing, however, is projected to fall by 25 per cent.

Price declines will gain momentum across the real estate spectrum and land prices will be the worst hit with a drop of up to 50 per cent in 2009. Sale prices of office space will be the next hit, with a drop of 35 to 40 per cent due to oversupply and diminishing demand. Corporate downsizing, as companies consolidate their offices to reduce overheads, will be another reason for this fall, the report said. Office lease rates will suffer a similar fate, it added.

"As Dubai's property market strains under the pressures of correction, certain distinct trends emerge. First among these is that price declines are gaining momentum across the real estate spectrum.

"Sellers are now more motivated than buyers, which means that affordability and consumer preferences are more important than ever. The financial crisis has slowed demand; personal incomes, job security, and confidence are declining. As a result, buyers' motivations are diverging, making it hard to predict equilibrium prices. As such, listing prices are becoming an unreliable indicator of property values," said a spokesperson for Landmark Advisory.

The improvement of confidence among banks and investors will be the critical first step towards recovery of the property market. While this is good news for potential cash buyers and new tenants, others will face a difficult year in 2009. Until that recovery, developers, investors and landlords must adopt a flexible and innovative approach to survive in Dubai's current real estate market, Landmark advised.

According to the report, land prices fell significantly in the fourth quarter last year, along with transaction volumes. Investor confidence, credit scarcity, and the cost of financing have driven down land values.

"Prices in the range of Dh50 to Dh100 per sq ft will be the most likely to attract investors' attention. The best locations for purchasing are in well-developed communities and plots surrounded by finished buildings. The year 2009 will yield excellent opportunities for long-term land bank accumulation," said the Landmark report.

The overall range of decline in average sale prices will vary between 10 per cent and 50 per cent, with low quality units to fall the hardest. "For example, at its peak in the second quarter of 2008, prices in International City were around Dh1,100 per square foot. From this peak, we expect year-on-year declines of 50 per cent, with prices falling to an average of Dh500 per square foot by the third quarter of 2009.

"The sharp reduction of available financing in October 2008 pushed buyers into the leasing market, but by December, job losses and worker-exit softened demand and rates began to fall. We expect this trend to continue and cumulative rental prices will fall 25 per cent over the coming year," said the report.

Landmark Advisory suggested that the rebound of Dubai's property market rests largely on the recovery of investor confidence and, more importantly, banking confidence. Despite special access to government funds, banks have reverted to austere lending practices that restrict the availability of much-needed capital. Now that inflation is less of a concern, the availability of financing will be the critical factor for boosting the economy and rehabilitating real estate transaction volumes, it said.

Lower inflationary pressure has also led to interest rate cuts, which should help stimulate the economy and are likely to coincide with the emergence of a price floor. It is, however, too early to tell if this will improve banking confidence; the UAE may need to implement policies aimed at guaranteeing assets and protecting banks from losses.

The fiscal policy measures announced over the past month are likely to provide more stimulus. The federal government and Dubai have increased public spending by 21 per cent (Dh7.3 billion) and 42 per cent (Dh11.2bn) respectively; combined, these increases amount to approximately two per cent of the UAE's GDP in 2008.

Finding a bottom, and therefore stability, involves the integration of new information about asset prices. This new information continues to evolve, with multiple economic forecasts released over the past three months.

For example, 2009 GDP forecasts for the UAE vary considerably depending on the publication date. Among the more recent reports, those issued before the country declared an increased budget, predict virtually no growth – a sharp decline from previous annual growth.

On the other hand, predictions made after the budget put growth at roughly two per cent – low growth, but better than no growth.

Throughout 2009, a "price discovery" process will continue across all real estate asset classes in Dubai. This includes sale prices and leasing rates for residential, commercial, retail, warehouses, land, and labour camps.

Based on current listing and transactional trends, plus demand and supply estimates, an overall decline is likely for most properties.

Landmark advisory confirmed that these predictions were based on expected market averages. Distressed sales are gaining attention and will continue throughout this year. At the moment, majority of listings are from motivated sellers, but actual distressed sales are relatively uncommon. Increasingly divergent motivations among sellers, combined with the price discovery process, have made listing data an unreliable indicator of transactional prices.

This trend is well illustrated by some sample transactions from December 2008. A 2-bedroom unit in Olympic Park at Dubai Sports City went for Dh814 per square foot. When evaluating this against listing data using a sample of direct comparables from the same project, the listing price average was Dh1,075 per sq ft. Thus, the indicative bid-ask spread was 24.3 per cent.

Interestingly, the listing sample had a wide range – Dh865-Dh1,350 per sq ft. The upper limit of the listing range was more than 40 per cent higher than the actual transaction price.

Similarly, a unit at Gold Crest Views in Jumeirah Lake Towers transacted at Dh1,274, with an indicative bid-ask spread of 14.9 per cent. The listing range was not as wide relative to the previous example; its upper limit was 22.3 per cent above the transaction price.
Follow Emirates 24|7 on Google News.