Kuwait property sales up 41% in year to November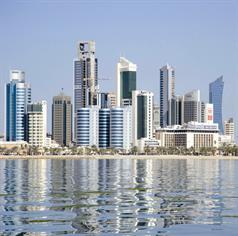 Kuwaiti real estate sales rose 41 per cent in the year to November, on high sales of residential and commercial property, official data showed yesterday.

Sales in the Gulf state rose to KD193.15 million ($672.6m/Dh2,470m) from KD137.01m in November 2008, Reuters reported quoting the data.

Residential property deals, which represent the biggest portion of total real estate transactions, were up 36 per cent to KD87.56m, compared to KD64.38m a year earlier.

Property sales, especially residential units, had been falling since the government placed restrictions in 2008 barring private firms from trading in existing houses to prevent unjustified increases in prices.

The real estate market is expected to strengthen further in 2010 after it saw a gradual recovery in the second half of 2009, National Bank of Kuwait said in a research note in October.

Investment property sales rose 1.1 per cent to KD66.74m, while commercial property rose six times to KD38.85m in November, compared with the same month a year earlier.

An earlier report from Kuwait Financial Centre (Markaz) said prices of investment properties are expected to grow by five to 15 per cent in 2010 from its current levels.

The report further expects the prices of office properties to contract by 15 to 20 per cent on account of a possible rental contraction due to the forthcoming supply. Markaz also forecast an abatement in the extent of price contraction experienced in the commercial segment and a moderate 10 per cent contraction in prices and rentals during the first half of 2010.

In the residential market, the number of sales rose to 379 from 280 in October.

This was a much stronger performance than that of late (the highest since July 2008). Yet of all the segments, the residential segment remains the one performing most below par; sales numbers are still around 25 per cent below their 2003-2006 average, whereas in other segments they are at or above their historic norms.

Average sales prices rose for the fourth successive month and are up 29 per cent from their July lows, according to National Bank of Kuwait.
Keep up with the latest business news from the region with the Emirates Business 24|7 daily newsletter. To subscribe to the newsletter, please click here.
Follow Emirates 24|7 on Google News.