Limitless to bring 330 DJA units on market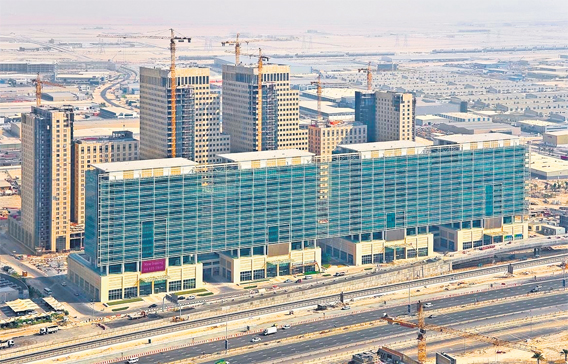 Downtown Jebel Ali (DJA), a master-planned mixed-use community development by Limitless, will ready 330 of its total residential units in The Galleries by year end, a top company executive said.
According to the master-developer, no rental rates have been set as yet for these units. "Whatever rental rates we will set on them will depend on the market value at the time of delivery. Further, there will not be a uniform rental rate for all the units and it will depend on the space on offer and the floor level," said Salah Ameen, Deputy Executive Director, Limitless, Middle East.
"We will not just be delivering residences. In fact, there will be a number of value-added facilities and provisions within the development. The Plaza with the amphitheatre, for example, will be completed by the end of March," said Ameen.
Limitless expects people working within DJA to take up these residences. "We believe that in Dubai, people are keen to live close to their offices and the Metro. Both of these will be available to potential residents in The Galleries, which is an eight-building complex with six office buildings and two residential ones. There are 660 residential units in all."
According to Limitless, the cost of construction so far within DJA is around Dh2.5 billion. "This includes the cost of building The Galleries, the Plaza and the infrastructure within the development," said Ameen. Limitless is already earning revenues from the first four buildings that are already built, in The Galleries. "We have four office buildings in The Galleries, 50 per cent of which are already leased out."
Limitless said more tenants were likely to occupy office space in DJA. "The current lease rate of retail units within DJA is around Dh150 per square foot," Ameen said, but declined to comment on lease rates of office space within DJA. He added Limitless would be keen to sign medium- to long-term contracts with businesses. "If somebody has a huge business with a brand name, it is good to have medium- to long-term contracts because you know that these are stable in the market."
"But when it comes to a more local type of business, we always prefer to have it short-term to medium-term. We are trying to work out a win-win situation for all," he said. Asked if Limitless was making a conscious effort to sign longer-term contracts, Ameen said: "While this means more stability for us as a master-developer, it all depends on who we are dealing with and who the tenant is. Usually, companies looking at longer-term contracts are those that are internationally branded. They have utilised Dubai as their regional hub and we can offer them the added value of the residential complex at their doorstep.
"We are trying hard to find solutions for people in the market. Unfortunately, there are a few companies or sub-developers who are pure speculators. It does not matter to them what solutions we offer; they will always be dissatisfied. For such cases, we will take it to termination if required."
Limitless said it is working with all third-party developers to provide them various solutions. "We revised payment plans, did a few consolidations of land and we are continuing on the same policy," Ameen added.
"As per our Sales and Purchase Agreements (SPAs), a developer has a five-year period in which to begin construction on his project. However, on an individual case-by-case basis, we have considered extending that as necessary and whenever possible. We have also worked out a consolidation wherein if an investor has invested in four plots, then we are consolidating his investment into two plots. Since a certain amount of money has been paid for each plot, payment for the four plots will go into the two and the balance will be paid as per schedule. All this will depend on the sub-developer, with respect to how many plots of land he has bought."
Speaking about on-time delivery, he said: "Since we are not the ones doing the construction, it is the responsibility of the sub-developer who has purchased the land from us, to build on time. He has to work it out with his investors and end-users. It has nothing to do with us."
He said infrastructural work in the development's first zone was proceeding full steam. "By March, the streets should be ready. All the deep services within the first zone will be 100 per cent complete by the end of March. When I say the deep services, I mean the district cooling pipes, the drainage pipes and the portable pipes. For the rest of the zones, we are progressing as per schedule."
Ameen said DJA will be ready in phases. "At this stage, one cannot have everything ready at one go. It is not that we don't want to, but at the end of the day we are part of the overall real estate market." According to Limitless, the Metro should be operational by June. "This will add value and connectivity to DJA, in and out of the development."
THE GALLERIES
'The Galleries' comprises eight buildings separated by a communal landscaped plaza housing a 300-seat amphitheatre and 105 square metre screen. A-grade office and retail space can be leased at 'The Galleries' while residential accommodation is due to come on line by the end of this year. Located on Sheikh Zayed Road, close to the Jebel Ali Free Zone, 'The Galleries' is within easy reach of the rest of Dubai and Abu Dhabi.
Keep up with the latest business news from the region with the Emirates Business 24|7 daily newsletter. To subscribe to the newsletter, please click here.
Follow Emirates 24|7 on Google News.