Mall vacancy rises to 30% across Indian cities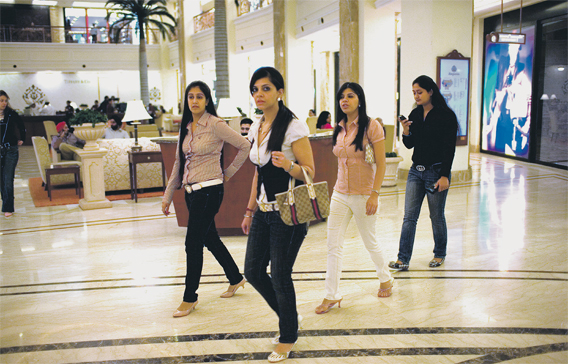 While demand for residential spaces seems to be gradually returning in India, the same cannot be said for the retail real estate market. The average vacancy across malls in major cities rose to more than 30 per cent last year, according to a media report.
Some of the international global consultants say that the Delhi NCR (National Capital Region) location saw the maximum deferment of mall supply, followed by Hyderabad and Kolkata.
More than 50 per cent of the estimated mall supply planned last year was delayed due to slowing down of construction, deferment of mall space and withdrawal of previously announced retail projects.
There is an increase in vacancy due to cautiousness returning to retailer's strategies, errors in demand forecasts and shrinking catchments owing to traffic jams, The Indian Express newspaper said.
Jones Lang LaSalle Meghraj (JLLM), a global property consultant, says that out of 17.3 million sq ft supply of retail space across the country in 2010, only 9.3 million sq ft is expected to be absorbed.
According to Real Estate Intelligence Service (Reis), a division of JLLM, there are 123 malls under construction in seven Indian cities – Mumbai, NCR, Bangalore, Chennai, Hyderabad, Kolkata and Pune – encompassing 53.9 million sq ft of retail space. Another 42 malls having 32.8 million sq ft of retail space are under planning stages and have been announced for completion by 2013.
Shubhranshu Pani, Managing Director of Retail Services at JLLM, says: "It is true that the vacancy in shopping centres increased during 2008-09. This was primarily on account of higher real estate costs and lower consumption, because of which many retailers started shifting from rapid expansion to consolidation mode. In fact, a significant number of these centres failed to kick off and create customers for the retailers. In many cases, retailers were disadvantageously placed, causing them to exit after the initial lock-in periods."
Experts believe vacancy continues to be the highest in the country's north region, primarily because of unrealistic clustering of centres in single locations.
In the rest of the country, where supply is not as high as in northern region, vacancy levels rose because retailers and developers failed to reach an amenable consensus on rentals. Some centres failed to attract tenants to a degree leading to complete vacancy of these malls across the country, primarily in the northern region. However, since retail is a highly location-specific business, these do not represent the overall scenario.
Market watchers say that because of faulty business models, a number of big brands are suffering. Models that worked on very high price points or had extremely low margins also suffered. Subhiksha is an example of low margins leading to bankruptcy. On the other hand, brands such as Hidesign are still struggling despite having good products.
Knight Frank India, another global property consultant, explains that vacancy rates are mostly location specific and not correlated to any city. Within the same city, some malls have excellent occupancy, whereas others are losing consumers (footfalls) and tenants. It is simply the ability of the developer to attract the right crowd – thereby pulling tenants to the mall– that differentiates the winners from the losers.
Some blame developers for not being consumer focused. "Several new malls have failed to get the right response from consumers because they have not put together a complete marketing plan to attract footfalls. This has forced retailers to be very choosy about which malls they sign up with. Some of the examples are Atria and Mega Mall in Mumbai," says Rituraj Verma, National Director (Retail Agency), Knight Frank India.
He says most of these developers are missing the topline. "Several international brands, such as BHS and Giordano, had completely overestimated consumer response and found that stores were not able to meet even the bare minimal expenses in several malls," Verma adds.
However, to add to the retailers advantage, there has been a continuous fall in retail rentals. A Cushman & Wakefield (C&W) survey revealed that certain pockets of Delhi, Gurgaon, Chandigarh, Kolkata, Hyderabad, Mumbai, Pune and Bangalore are witnessing severe decline in rentals.
The NCR, which received the highest quantum of mall space last year, saw a rental correction of approximately 30 to 60 per cent in locations such as Noida and Gurgaon. Likewise, high streets like Linking Road and Kemps Corner in Mumbai, Cathedral Road and R K Salai in Chennai, and Ganesh Khind Road in Pune witnessed a 13 to 20 per cent drop in rentals.
While retail rentals head for further rationalisation, the degree of decline will depend on local micro-market specific factors. According to Anshuman Magazine of CB Richard Ellis (CBRE), well-planned malls in established locations are not likely to witness much change in demand or rentals. For example, in Mumbai, demand for rental space has remained strong in the established locations, but low in new locations as retailers have been rather reluctant to test new waters.
This trend is likely to continue, he says, and it will be some time before strong demand leads to a firming up of rentals in the suburbs. With more supply lined up, the pressure on rentals, especially in peripheral areas, is likely to continue.
This whole phenomenon of slowing demand, oversupply, and hence softening rentals has had an adverse impact on the realty companies that developed malls. "The return on investment is diminishing for developers," says Jaideep Bhandari, CMD, Bhandari Infrastructure, which is developing a number of malls in Delhi-NCR.
From a landlord's perspective, it makes business sense to offer properties at rational rents, as this will lead to retailers occupying their properties for longer durations.
In the past, the high rentals imposed by developers (or whoever the landlord was) caused many retailers to shut shop and ship out of malls. But now, with occupancy levels within malls falling, space-owners are more willing to adopt the revenue-sharing model (ie, while a base rental is fixed, the balance is a percentage of the total turnover of the retailer).
Differing from popular belief, experts are of the view that there is substantial potential for the the sector to revive over the next few months.
"The present negative sentiments are a result of job insecurity and uncertainty regarding cash flows in the urban centres. The return of security on these fronts is a function of holistic economic revival, of which the first signs are already visible," says Bhandari .
In the post-2009 scenario, experts say that there has been a semblance of understanding with the introduction of minimum guarantee and revenue share rather than pure rentals. This increases the sustainability for retailers for the crucial first years of occupancy.
Despite the fact that a drop in retail rentals could provide the motivation to retailers to revitalise their growth plans, in all likelihood they will wait for demand to revive. But, with rentals reaching more rational levels, one cause for retailers' suffering is being addressed.
Follow Emirates 24|7 on Google News.