Omniyat Properties says it will deliver by 2012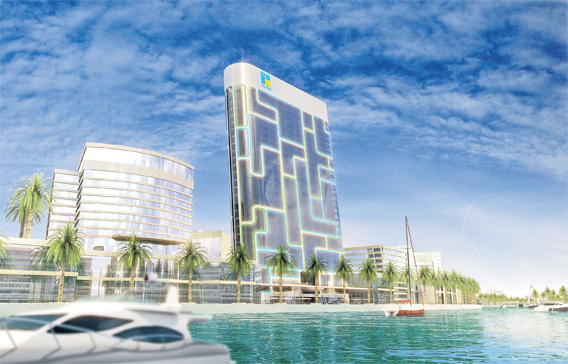 Omniyat Properties, a Dubai-based developer, is committed to delivering its entire project portfolio by 2012, according to company's executive chairman.
"We have already delivered three projects out of the eight that we had launched in the past five years. The balance five are 85 per cent sold and more than 50 per cent collected on an average. This effectively gives us a solid base to count on our customers and a solid cash flow base to build/complete our projects. We expect to deliver our entire portfolio by 2012," Mehdi Amjad told Emirates Business.
"The market environment is extremely challenging and by no means we are saying it is a 'honeymoon' here. Times are challenging, but we have managed to adapt to the current market situation and have come up with a strategy that allows us to deliver each and every project."
The developer has already slowed down on the delivery of The Pad and The Binary – the former a residential and the latter a commercial project – due to delay in completion of infrastructure in the Business Bay master development.
"There is no point going full swing and delivering a building when we can't support it with all the infrastructure when it gets completed. And so it is not in the benefit of our customers that we build something that they can't potentially use for a year or more. Hence, we have aligned the delivery strategy with infrastructure delivery date, and offered a revised timing that effectively works well for our customers as they don't have to pay or be at default."
According to Amjad, the two projects are more than 40 to 50 per cent complete.
"We can complete the projects in very short time, if given the green light. We plan to deliver them in the second half of 2011."
Options offered
Consolidation and flexible payment plans have been the option that Omniyat has continued to offer to its customers since the global crisis began.
"Although most of our projects are sold, we have tried to consolidate our customers who have overcommitted themselves, mostly in the Octavian in Business Bay and Beachfront Living project in Waterfront. But again we have limited options.
"The only thing we can do as a company is to be most adaptive to the reality of the marketplace and try to find the best solutions that really create the optimum result possible. However, one has to remember that we don't have an infinite pool of cash available to fund and support every customer. We have to bridge these gaps and balance our delivery schedule."
In August 2009, Amjad said the developer had reduced prices of units by 10 per cent for projects sold during the peak of 2008.
"We have done a price adjustment of 10 per cent for units sold in our projects during the peak of 2008 as construction costs now have come down. We have passed on the benefits to our customers," he had said.
In 2010, Omniyat will deliver two projects – the Square office tower in the next few months, and the Move and Pick hotel apartment in the Square. Work on Opus, a mixed-use project in Business Bay, is in full swing, according to the developer, with the delivery scheduled for the first half of 2012.
Amjad, who has most of his projects in Business Bay, believes the master development will be among the top commercial business district in Dubai and the region.
"Commercial has its own challenges… rates are under pressure today. But we believe that demand for office space in Business Bay will rise in the next three to five years and it will grab demand from all secondary locations."
To create additional value for its customers and ease off the burden of maintenance fees, Omniyat is offering a pay-per-use option to investors.
Easing burden
"We have managed to do that by changing our offering by making it 'pay-per-use' type. There will be a centralised services base that would be offered to investors, but rather than becoming part of the infrastructure, they can choose to pay for what they use."
Citing an example, Amjad said the One Business Bay tower will have all the technological services but customers can choose to pay for what they use.
"Similarly, we did not want to create a burden for the association and hence we converted the gym and swimming pool into commercial spaces where we brought in a gym operator, to run it on commercial lines, offering the facility for all even outsiders."
With the Strata Law imminent, transparency will become an important issue for all developers, said Amjad.
"We are already adopting the Strata approach as all our books are audited. Moreover, our in-house facilities management team manages the third party contract, as we don't want to conflict our position with the association. Due to the conflict, we will not be able to deliver the best level of service possible," he said.
Asked if the defaults numbers had come down, Amjad said: "The trend is the same. You will continue having challenges with customers and we are trying to give as much leeway as possible. We had a lot of challenges with our customers in the One Business Bay and the Bayswater project in Business Bay in terms of getting the final payment. We have worked out with some and are still working as a lot of them have still not yet settled their account."
About the progress of Beachfront Living project in Waterfront, Amjad said it was under construction with the construction work reaching the shoring level.
"We are at the critical path of the project as the customers have to make a decision. Majority of the customers are in default. We are working with them for the past one year, trying to see their level of commitment. From our perspective, we are fully committed to the project. We are under construction and have all the permits. However, if the investors choose, then we will stop."
So far the company has not got any clear instruction from the investors, he said.
"We have a delivery date to meet and the project is fully funded as the project is sold more than our project cost."
For Omniyat, overseas expansion is still on cards. "In long term, we see ourselves involved in the Saudi market and other markets but it all depends on the time. Whenever the time is right, we will engage into expansion," he said.
Plans to reactivate investment management unit
Omniyat Holdings plans to reactivate its investment management unit in the Dubai International Financial Centre "once the market is liquid enough".
"Fund management is a key part of a development life cycle but obviously reflecting the current market environment we did not launch anything despite we being very close to launching one. We will reactivate the process by setting up the same company, with same name, whenever the market is liquid enough," Amjad said.
The company was authorised by the Dubai Financial Services Authority to arrange investment deals, advise on financial products or credit, and manage assets. The unit, launched in March 2008, had plans to manage deals worth over Dh2 billion in the same year.
Action against defaulters
Omniyat is planning to take legal recourse against a few investors in the Square project who have failed to fulfil their financial commitments, said company's Executive Chairman Mehdi Amjad.
"Investors here don't understand the concept of long-term leasehold. The Square conflict is a pure case of lack of education. There are different rules and it is not that you can set up an association and lease. You have a different set of rules compared to your rights in a freehold environment.
"The building was delivered in August 2009 and any action we might have taken or will take is after we have been patient for more than six months."
The Square, an integrated real estate compound with residential, commercial and retail components, is being built in the Mamzar area of Deira. The residential component is a freehold complex comprising seven low buildings surrounded by 6,000 square metre of gardens and water features. The buildings are named Ayka (bushy tree), Tala (small palm), Dalia (Vine) and Sendian (oak) after the foliage in the park.
Asked if Omniyat was repossessing units in the project, Amjad said: "Very much so if the customer is in default and after six months of reminder they cannot remedy their default, we have obligation towards other investors whom we have to satisfy."
"People expect developers to be warm under the current market situation, but developers are under severe pressure and if they become too lenient towards a certain group of customers who are having difficulties, then we are doing injustice to other investors who are paying on time," he said.
Follow Emirates 24|7 on Google News.