Real estate sector likely to see consolidation this year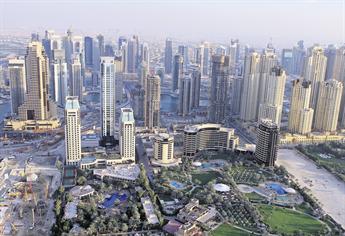 This year is likely to see consolidation among real estate brokers and the sector will inevitably shrink because of the slowdown in the market, say UAE-based agents.

Some believe there will be mergers and acquisitions in both the local and regional markets while others expect smaller players to simply disappear. There will be further job cuts, the agents believe, though some companies have been recruiting despite the adverse conditions.

The consolidation process started in the last quarter of 2008 and is likely to continue throughout 2009, according to Andrew Chambers, Managing Director of Asteco Property Management.

"The consolidation will see the disappearance of smaller sales brokerage operations and many individual brokers," he told Emirates Business. "Those companies offering the full range of property services will dominate the industry."

And Charles Neil, Chief Financial Officer of Landmark Properties, said: "Only the larger brokers will be in business by the end of the year. Landmark will be one of those that will survive as it has a diversified income base.

"Henceforth, customers will deal only with the well-known brokerage firms, particularly when they are placing deposits through them and want to ensure their funds are safe."

Robert Macnair, Sales Director of Elysian Real Estate, said the consolidation began at the tail end of last year.

"Realty brokers have had a real wake-up call," he added. "What has happened, certainly in our case, is that we adapted immediately to the situation. We have cut back on all unnecessary overheads and luxuries and poured the money saved into marketing.

"The market has been changing by the day and unless brokers are running at the same pace as Dubai agents could fall by the wayside, as a large number already have."

Iseeb Rehman, Managing Director of Sherwoods Property Consultants, said: "Smaller companies will definitely merge and consolidate into one big brokerage firm as in the current market scenario it is difficult for smaller companies to survive by themselves."

However, some agents said the number of mergers and acquisitions would be limited as the brokerage sector was a "people business" and companies had no tangible assets.

Neil added: "The brokerage sector is all about goodwill and if people leave your company you have lost the purpose behind a merger or takeover."

Some brokers believe M&A activity will be greatest among middle-tier agencies.

Peter Penhall, CEO of Gowealthy.com, said: "Generally the broking fraternity is a service industry and the bigger names and brands have spent a good deal of time and effort positioning themselves. We do not see an appropriate value-added position coming from M&A for the bigger names in the industry."

Brokers said it would be difficult for agencies that were not multi-disciplinary to survive if the number of sales transactions did not increase. The most professional companies will survive.

Some agencies would suspend their activities with a view to returning to the market when conditions improved while others would diversify.

Macnair said: "The companies that are focused on business development, both in Dubai and overseas, will be the survivors. It may be that some companies may merge, but personally I see it as a time to develop and fine-tune key salespeople and improve customer care. Also at the moment there is more time to look at your own business, as we have. This has brought fresh ideas and new drive."

The brokers said there would be further lay-offs in the sector in 2009.

Neil added: "There will be job cuts as brokerage house cashflows dry up. However, many agents and brokers will leave of their own accord as their incomes will drop and they will need to find alternative employment.

"At Landmark, we are still recruiting staff with proven track records into our leasing, property management and sales divisions. The company has been moving staff into other areas of activity in order to give them new opportunities to generate income."

Penhall said: "As the market continues to adjust to the changes being forced upon it, there will naturally be further human resource rationalisation. I believe we will witness a shift in numbers in favour of the rental and leasing sector, which is expected to remain reasonably resilient. Brokerage entities and their staff will certainly need to adjust their strategies.

"Fortunately, we have not had to consider such severe strategies at this point as our brand's presence in the local and international markets has ensured that we retain an acceptable level of sales activity from our regular investor clients as well as the international public. At the corporate level, good support and commitment to our sales team will pay dividends going forward."

Elysian has "consolidated in-house", according to Macnair, who added: "We have battened down the hatches, so to speak, in order to weather the rough times ahead. However, we have also been recruiting high-calibre sales professionals from companies that appear to have buried their heads in the sand or are simply in denial over the whole situation.

"Since October 2008, we have increased our sales force by 105 per cent. What has kept our sales team positive and also generating income is the ability to adapt. We encourage the team to learn about the rentals and leasing market as well as the commercial, off-plan and end-use side. They are becoming true sales professionals as opposed to order-takers – the latter will not make it through the challenging times ahead."

Asteco has seen a minimal drop in staff numbers and recruitment in the last few months in areas such as its investment agency and property management section.

And Sherwoods' Rehman said: "We will continue to see job cuts in the market but at the same time you will see companies hiring the right staff. In that respect, the industry will balance out its staff strength."

Agents who cannot operate in other areas such as leasing rather than just handling sales are likely to lose their jobs in today's market. And the slowdown will inevitably affect companies' profitability.

Chambers said firms engaged only in brokerage would find it much harder to achieve good profits this year than those offering a range of property services.

Real Estate brokers Cluttons partner Michael Grant said brokerages were looking at other aspects of their businesses, such as leasing or property management, to sustain themselves as a result of the drop in sales.

And Neil said: "Brokerages that relied purely on sales must be finding it tough to cover salaries and rents. Landmark is the only brokerage company to have a brokerage licence, an advisory licence and a property management licence.

Penhall said: "As with most businesses throughout the world today, a certain amount of rationalisation in staff numbers is inevitable to ensure that operating costs as a percentage of income remain reasonable and commercially viable.

"Apart from a nominal element of cost rationalisation, we at Gowealthy have chosen to focus rather on our efficiencies and income-generating dynamics. One must always place things into context – remember 2008 was a record year for the brokerage market in Dubai, so cycles are inevitable."

Rehman said the recent job cuts in the industry had been handled according to Ministry of Labour regulations.

"The agents were earning good money when the going was good and they are aware that they were in a high-risk, high-reward job," he added.

Meanwhile top brokerage firms are working with the Real Estate Regulatory Authority (Rera) to form a professional body regulated in accordance with the property laws. But Penhall said: "Due to the state of the market we anticipate that work on forming this body will slow as it is probably not the highest priority at this stage."

And the brokers agreed that what Dubai needed at the moment was to see the banks start lending in the property market again to revive the sector.



Agent trust account

The Real Estate Regulatory Agency (Rera) plans to make it mandatory for real estate brokers to open trust accounts this year. The real estate broker trust account law will be issued under the by-law No85 of 2006 regarding the Regulation of Real Estate Brokers Register. The move is part of Rera's initiative to boost confidence and bring transparency to the brokerage industry.

"We are in the final stages of setting this real estate broker trust account," Marwan bin Ghalitha, Chief Executive Officer, Rera told Emirates Business in November.

According to the new regulation, the trust account will ensure that all the money received or transferred under a deal between the seller and the buyer such as the down payment or commission will go into the trust account only. Rera is yet to finalise the bank that will manage the trust account.



The broker law
By-Law No (85) of 2006 regarding the Regulation of Real Estate Brokers Register in Dubai was issued on May 30, 2006, and came into force immediately. The by-Law was issued pursuant to Article (6) and Article (28) of Law No (7) of 2006 concerning Real Property Registration in Dubai.

According to the law, it is applicable to all real estate brokers who deal in the sale and purchase of property that is registered at the Dubai Land Department (DLD).

In addition to the requirement to obtain and maintain a trade licence from the Dubai Department of Economic Development, a regulated broker is required to apply for registration in the Brokers Register maintained by the DLD.

Breach of the law or the code of ethics may result in a warning, notice, suspension from work for a period of up to six months, blacklisting or cancellation of the broker's registration.

A new council is established at the DLD to hear disputes related to brokerage. This is not a mandatory form of dispute resolution and both parties must agree for their dispute to be referred to the council, which will act as a conciliator, not an arbitrator, and neither party is bound to accept its findings and recommendations. However, if the referral to the council results in a mutually agreed settlement of the dispute, such settlement is enforceable through the courts.


Follow Emirates 24|7 on Google News.