Realty funds focus more on Dubai market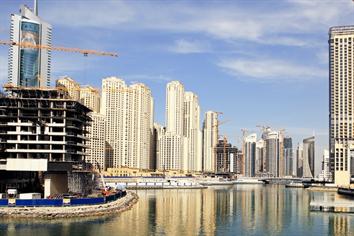 Attractive valuation of properties is luring real estate funds to focus more on Dubai, according to experts.

"It is not so much that Dubai is gearing to attract more real estate funds into the market, but it is more the case with property valuations becoming more attractive for real estate fund investors to deploy more capital into the real estate sector," Kerrie Alder, Head of Real Estate, Emirates Investment Services (EIS) Asset Management, told Emirates Business.

"The re-introduction of available financing will also further aid interested funds in due course," said Alder.

EIS has so far closed more than 20 deals. "We have probably covered most of the completed property market in some way or form via our committed investment team," said Alder.

Alder said EIS currently has a successful core real estate fund that invests in completed and close to completed assets throughout the UAE called the Emirates Real Estate Fund.

"This was launched in June 2005 and was one of the first Shariah-compliant open-ended real estate funds in the market here. The fund has invested more than Dh2 billion worth of assets across a range of diversified properties in key locations that we believe will continue to deliver returns to our investors.

"We have been involved with a large locally invested fund, however, we are looking to provide our investors with some alternative real estate options for their investment portfolios. The UK commercial sector is attractive due to the decline and the speed of decline in real estate valuations as well as the currency exchanges and the decline in sterling versus the dollar. We hope to provide our clients with an attractive offering shortly," she said.

Tamer Bazzari, Deputy Chief Executive of Rasmala Investments, said Dubai was seeing a lot of interest from real estate fund investors and managers to invest into this market.

"The investors and fund managers are doing a lot of analysis to try to determine the right entry price in the right asset class at the right time. We expect that many attractive opportunities will be found by such funds over the next two years.

"As the real estate market matures further, more real estate funds will focus on assets that offer lucrative prices and show signs of distressed opportunities or yield opportunities," he said.

Rasmala Investments is currently working on a few real estate funds and is expected to announce a new fund within the coming few weeks. According to Bazzari, the real estate fund investors currently are not focusing on real estate development funds, due to current market conditions.

EIS said Dubai would attract the regional fund managers in current times who understand the anomalies and risks of the market rather than too many overseas fund managers.

"I believe it will still take time for large institutional global real estate names to feel comfortable with the regulatory environment in Dubai and the UAE," said Alder.

According to Sohail Zubairi, Chief Executive Officer, Dar Al Sharia, a subsidiary of Dubai Islamic Bank, "before the financial crisis reached us in the UAE, Dubai was cruising well in attracting real estate investments on institutional as well as individual levels. However, the real estate sector has been the worst affected by the crisis so far."

"Some new investments may have entered Dubai in the recent past, mainly to exploit the distressed sales of property units at prime waterfront locations where the plunge in real estate prices has been felt the hardest," said Zubairi.

Experts further said that many investors of the fund were high net-worth individuals seeking good bargains from distressed opportunities.

"We also expect to see regional and international institutional such as pension funds and insurance companies investors seeking income-producing properties at attractive yields," said Bazzari.

Dar Al Sharia said that before the crisis, individual investors generally came from UK and Europe besides the Indian subcontinent and Iran.

"Similarly, several funds were also launched by the local as well as foreign financial institutions, which invested in real estate in Dubai and Abu Dhabi," said Zubairi.

EIS said as part of the EmiratesNBD Group, the company has a wide distribution network through its channels. "We have a very wide ranging client base in terms of nationality, wealth, stature, location and many other factors," said Alder.

According to Rasmala, rental funds are expected to give a return of around eight to 12 per cent annually, while distressed real estate funds are expected to typically give a 25 per cent annual return owing to its higher risk profile.

"Predicting returns is of course difficult and depends on the overall investment strategy of the fund – our own fund has returned approximately 15 per cent per annum in US dollar terms with a net yield of approximately 7.5 per cent. This is on an essentially unlevered, fully occupied portfolio," said EIS' Alder.

Rasmala is currently offering a stake in a real estate company, Realty Capital, in developing a commercial i-Rise tower in Dubai that is due to be delivered next year.

"It is a 20-month investment with an expected IRR of 30 per cent. We are seeing interest in this opportunity as it is unique, well priced, and exit to investors is very clear," said Bazzari.

Alder said EIS is now seeing that the market recognises the value of this stable return and is beginning to differentiate the expected returns based on risk.

EIS said funds should be categorised into core, value and opportunistic funds. Each fund category offers very different risk return trade offs for investors, and further within each fund category the overall strategy of the fund can vary significantly.

"Property should be deemed a long-term investment. Flipping paper-based property for 100 per cent return within a few days or weeks was a totally unsustainable marketplace. The Dubai real estate market is now moving through a maturing phase and thus returns will be anticipated over time to reflect wider established markets," said Alder.

Realty experts in Dubai called for improved regulations in the real estate sector and called for more real estate funds to thrive in the market.

"In the past two years with the establishment of the Dubai Real Estate Regulatory Agency (Rera) we still have some way to go. As the market in Dubai is maturing, we expect to see more regulations and a hence better investment environment for real estate funds," said Bazzari.

Experts however say that many overseas funds and large corporate investors are still not entering the market as they wait for the regulatory environment to improve further.

"Incredible headway has been made in a very short time in the regulatory environment. However, time is now needed for these regulations to be fully implemented, smoothed out and put to the test. We have to remember that in the Western world such regulations evolved and were refined over many decades," said Bazzari.

Zubairi said authorities in Dubai are keen to develop world-class regulations to attract real estate investors (individuals and funds) to confidently invest in Dubai. "Of late, Rera has been working hard to provide transparent laws to protect the respective interests of investors and tenants," he said.

Walid Jaafar, Partner, Head of Corporate Department, Fichte & Co Legal Consultancy said there was not enough regulations in Dubai or in the UAE for real estate funds to thrive.

"The laws and regulations governing any type of fund should be revised and updated," he said.
WHAT DO YOU THINK?  Is the property valuation becoming more attractive for real estate fund investors? Have your say by posting a comment below, or emailing us at online@business24-7.ae.
Follow Emirates 24|7 on Google News.