Sorouh Real Estate profit climbs by 42 per cent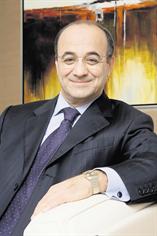 Sorouh Real Estate, Abu Dhabi's biggest property developer by market value, said its full-year profit rose 42 per cent on land sales.

Net income rose to Dh1.78 billion, or 74 fils a share, from Dh1.25 million, or 50 fils, in the year-earlier period, the company said yesterday in a statement on the Abu Dhabi bourse website.

Full-year profit attributable to shareholders of the parent company was Dh1.86bn, the company said.

However, its fourth-quarter results showed a decline of profit of 91 per cent, with net income dropping to Dh44.2m from Dh483.9m in the year-earlier period.

The company reported a growth in total assets of 135 per cent to Dh17bn until December 31, with net asset value up 33.5 per cent to Dh5,958m. Liquid funds increased from Dh1.4bn to Dh6.8bn, as a result of cash collection from sales and rental income, and funds raised through the issue of an award-winning asset-backed sukuk during the third quarter of 2008.

The company said it remained positive about the long-term outlook of the Abu Dhabi real estate market and the company's strong balance sheet.

Abubaker Seddiq Al Khouri, Managing Director of Sorouh, said he was pleased to meet full-year expectations, despite the challenging global picture in the last quarter of 2008.

"We remain confident. We are positioned as positively as we can be for 2009. Sorouh strengthened its cash position in 2008 to ensure we have the necessary liquidity in place for the coming year and beyond. We are taking a prudent approach to the deployment of those reserves in 2009," he said.

Mounir Haidar, Sorouh's CEO, said: "During 2009, we will focus on the on-time construction of Sorouh's projects, which saw significant progress in 2008. We accept that 2009 will be slower than 2008, given the global financial situation, but we remain confident of the long-term outlook for Abu Dhabi and for Sorouh."

The cost of revenue, which were related to cost of land plots, attributable cost of infrastructure work and lease expenses, increased to Dh1,426m.
Follow Emirates 24|7 on Google News.