The World islands still fetch premium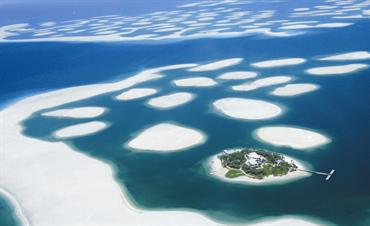 Nakheel, the real estate arm of Dubai World, has no plans to lower selling prices on The World islands despite a regional and global property market slowdown.

"The World is a highly differentiated project. The individuals and consortiums are carefully selected to receive an invitation to purchase islands. Prices for individual islands range from $20 million (Dh73.4m) to $50m," a Nakheel spokesperson told Emirates Business.

According to the developer, all available islands that were scheduled for 2008 have been sold and only 30 per cent remain.

The World comprises 300 islands. Every year 50 invitations to "Own The World" are sent to businesspersons, celebrities and royalty.

Asked how many islands Nakheel plans to sell this year, the spokesperson said: "Interest in The World remains high. We've had a great response so far from the select group of investors invited to purchase islands in 2009."

Reclamation on The World was completed in January last year, and some islands have been handed over already, the developer said.

"Once developers accept handover of their islands and have their development concepts approved, they can begin soil investigation and then seek building permits to begin construction on the islands," the spokesperson said.

The World represents countries and cities from across the globe and each island will be home to a collection of estates, luxury condos, scenic resorts, restaurants and retail outlets set amid beaches, yachting options and other leisure opportunities. The World is nine kilometres wide and seven kilometres long. It covers an area of 931 hectares and will add 232km to Dubai's natural 67km of beachfront.

The islands range from 150,000 to 450,000 square feet in size. The World is divided into private estate island zones, commercial zones, which have low/mid/high density resorts, hubs for ferry transfer points and public visitor areas.
Follow Emirates 24|7 on Google News.