UAE commercial property price to see modest decline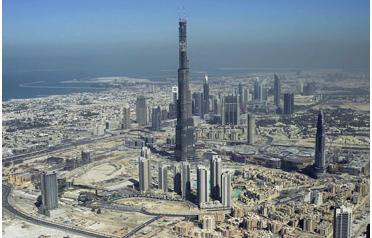 Stable commercial real estate prices in the UAE unaffected so far by the global economic downturn will witness a modest decline this year, market analysts said. The supply-demand gap for office space is still wide as the expected delivery of towers, such as Business Bay, has been delayed, they said.

With these projects expected to complete this year, more commercial space availability will result in a natural drop in prices, they added. These views followed the release of three reports this week by Asteco, Real Capital Analytics and CB Richard Ellis (CBRE). These market reports indicated that commercial real estate survived 2008 – ending flat on sales prices and slightly lower on rental prices for the last quarter.

Latest research from CBRE showed that prime rents in each of the three main commercial property sectors – office, retail and industrial – remained static in the fourth quarter of 2008. However, rental growth in 2008 as a whole reached 50 per cent for industrial buildings, 29 per cent for offices and 18 per cent for retail.

Asteco reported that office sales prices maintained stability posting an average growth rate of 10 per cent last year. Research by Real Capital Analytics suggested that year-on-year commercial property sales doubled in 2008, with property jumping 148 per cent to $3.12 billion.

Commenting on the latest trend in the market, Nick Maclean, Managing Director of CBRE, said, "We are seeing now for the first time a drop of commercial rental prices. Property purchase prices have been coming down for some time now, but rents had until now been holding strong."

Andrew Chambers, Managing Director of Asteco, added, "In recent months real estate prices in Dubai have been at an all-time high. With the current global climate a lowering was inevitable. It should be noted, that the majority of units listed are asking prices. Consequently, it is difficult to set value benchmarks, due to limited transactional activity over the last two months. Areas with heavy off-plan projects have generally been affected more, as the market has shifted from a speculator market to an end-user market.

"It is envisaged that in 2009 there will be a decrease in off-plan sales. This could potentially lead to improved project planning which may limit construction delays. Furthermore, an increase in owner or occupier rather than speculative projects may be seen."

The commercial real estate market was still too underdeveloped to fully understand and speculate, felt Ian Albert, Regional Director of Colliers International. "With the completion of current projects this year, the market should evolve into one that offers specific trends and well founded analysis," he said.

Despite a loss of momentum in rental markets, there was no change in investment yields in the fourth quarter, reported CBRE. "Dubai offers some of the highest prime yields in the EMEA [Europe, the Middle East and Africa] region in any case – 11 per cent in the industrial sector, 7.75 per cent in office and eight per cent in retail – and there was no movement in these levels in the final quarter of last year. Indeed over the year as a whole, only the industrial showed any yield change, recording a 50 basis points rise on the year," said Maclean.
Follow Emirates 24|7 on Google News.