UAE office rents among the highest in 2009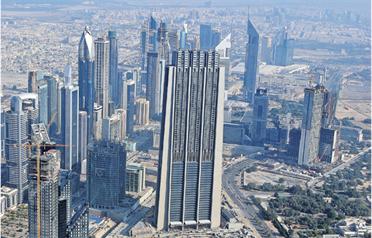 Office rents in Dubai and Abu Dhabi have remained the highest across the world in 2009 despite the regional property market witnessing a slowdown, according to two reports.

Rents in the capital and Dubai stood at €569 (Dh2,860, $779) per square metre in 2009, according to Knight Frank, while DTZ said Dubai still remains the most expensive location in the Middle East and Africa (MEA) for office space with occupancy costs at $14,520 per workstation.

Abu Dhabi's occupancy costs stood at $14,300 per workstation, followed by Doha were costs were at $12,520 per workstation.

Andrew Goodwin, Director, DTZ UAE, told Emirates Business that they expect a near doubling of good quality office space in Dubai over the period to 2012 with an increase of over four million square metres in line for completion. However, some of these schemes may be delayed, he added.

"Abu Dhabi has a much smaller existing quantity of modern office accommodation, while there is projected to be only 400,000 square metres of office space completed in the capital over the same period. A lot of this will be taken up by offices migrating from poorer quality office stock."

Asked if Dubai will still continue to remain the most expensive location for office space in the region, Goodwin said: "There has been a fall in rents of 34 per cent over 2009 and with vacancy rates expected to rise in Dubai, there will be further downward pressure in rents. We do think prime areas within Dubai will retain their value leading to a higher differential between prime and secondary locations."

James Lewis, Director of Investments at Knight Frank, said: "Abu Dhabi will continue to hold its position while Dubai is likely to decline. Yields will, however, soften across the board."

Goodwin believes the combination of lower rents and softer yields have halved capital values in parts of Dubai and this will decline further in line with future rental adjustment.

However, Abu Dhabi will begin to see the completion of offices off the main island and will start to open the commercial office investment market to international and GCC investors for the first time, Goodwin added.

According to DTZ, the least expensive location in the Middle East in 2009 was Al Khobar in Saudi Arabia where annual occupancy costs equated to $3,930 per workstation.

Paris is no longer among the top five most expensive office locations in the world, as London's West End entered 2010 as the world's most expensive city to occupy office space in.

Ranked fifth in last year's survey, London's West End has taken the number one spot, displacing Tokyo and jumping above Paris and Hong Kong.

Emerging as new entrants within the global top 10 were Zurich, Boston and Frankfurt, which ranked eighth, ninth and 10th respectively. The shift in position of these markets was due to more moderate rental fall in comparison to other locations.

However, the sharpest falls within the global ranking were recorded in those markets which have seen significant rental growth in recent years, most notably Singapore and Kyiv (Kiev), which both saw occupancy costs plummet by 51 per cent year-on-year.

Singapore felt the impact of the global economic crisis particularly badly, as weak occupier demand collided with a substantial amount of new supply to drag down rents and thus total occupancy costs. In Kyiv, demand for office space was severely impacted by the recession, with take-up in 2009 less than half the volume recorded in 2008. Nevertheless, despite weak demand, the office market in Kyiv remains structurally undersupplied.

DTZ expects occupancy cost in the Middle East to either "stabilise" or "decline". Occupancy costs are expected to continue to fall in Doha, Kuwait City and Bahrain, as significant levels of new supply come on line at a time when occupiers are consolidating their business activities and thus adding secondary space to the market.

The global adviser expects growth in occupancy costs to be relatively muted over the 2010-2013 forecast period, in contrast to the strong growth in occupancy costs experienced in recent years. This reflects the global economic outlook, which is impacting on firms' hiring decisions and consequent demand for office space, resulting in weak rental growth in the near term.

The report forecasts indicate that Asia Pacific will experience the strongest growth in occupancy costs over the next four years as the region's economic growth is expected to continue to surpass that in Europe and the United States.

The region features three of the world's top five fastest growing markets in terms of occupancy costs per workstation – Hong Kong, Guangzhou and Bengalaru, which are expected to grow by 8.82 per cent, 4.84 per cent and 4.36 per cent, respectively, between now and 2013 – with Hong Kong predicted to emerge as the most expensive location in the Asia-Pacific, as supply constraints drive increases in rents.

London's West End market is, however, expected to remain the world's most expensive location in coming years, with Hong Kong, Tokyo, Washington DC and Paris rounding out the top five by 2013.

The steepest declines in occupancy costs over the forecast period (2010- 2013) are expected in Singapore (-1.8 per cent), Chennai (-1.4 per cent) and Glasgow (-0.6 per cent), with the declines being anticipated during the first half of that period.
Keep up with the latest business news from the region with the Emirates Business 24|7 daily newsletter. To subscribe to the newsletter, please click here.
Follow Emirates 24|7 on Google News.