UAE real estate firms not keen on ratings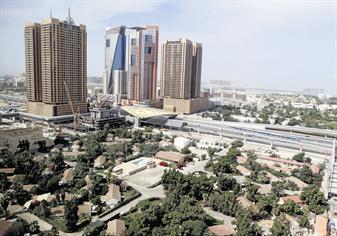 Real estate companies in the UAE are currently not seeking a credit rating due to current market conditions, according to an analyst.

"The reason why most companies seek a credit rating is when they look for external funding from international investors. Currently, it is a constrained funding environment and interest is relatively limited," Khalid F Howladar, Senior Credit Officer, Moody's Investor Service, told Emirates Business on the sidelines of a real estate conference.

"I think it has been stagnant especially since events towards the end of last year made it more expensive for companies in the UAE to approach the capital markets.

"In theory, companies could be coming to us but there is not much that we can disclose. If companies have approached us, it's confidential. Certainly, at the point where they get a public rating, we would announce it in the market."

Howladar added that credit ratings could help larger real estate firms if they want to try and get funding from other sources.

"If a company is publicly rated, it gives new investors some fresh information on that company because then they have to open their books to us. Credit ratings do give new investors more confidence to invest in a rated company."

He added that today, financing was one of the biggest challenges in a stagnant real estate market. "Funding remains a key issue to unlock demand. We are not seeing mortgage interest rates falling a lot. I think the market needs to focus more on stimulating the demand side. The people who want to buy a property need access to competitive financing, there is a need for targetted liquidity for the sector."

Other experts at the conference called for increased lending from the banks to the developers. Shahram Shamsaee, Senior Vice-President, Asset Management, Majid Al Futtaim Properties, said the developer has had to do away with the self-financing model.

"The traditional self-financing model has long gone. We do use traditional forms of borrowing from banks. Having said that, banks just don't have the kind of capital they used to have. They are more careful today in respect to who to lend to. If a company has the balance sheet, the business model, then banks are ready to lend." Shamsaee said that MAF was underway with all its projects and its balance sheet was looking balanced.

Elaine Jones, CEO, Asteco Property Management, said that going forward in 2010, real estate selling prices would depend on who is selling, how much they need to sell it for, and who was buying. "The sale prices in the market will be set according to how much the seller is looking to sell it for and how much the buyer is willing to accept it for."

She said that during the peak, many offices globally were put off with the high rental values of commercial properties, and currently the lease rates of corporates was reasonable. "Today rental and sales values are at more realistic levels."

Lisa Dale, Partner and Head of Property Department, Al Tamimi & Company, said: "This year should see a number of new laws for the real estate sector. One of these is the new law for real estate evaluators – the implementation of the regulation of the strata law. The other law is the anticipated real estate brokerage trust account law that has been in discussion since last year. This law will ensure that the real estate agents' commissions are held in some sort of a strata arrangement. We are also possibly looking at an investor protection law this year, which will protect investors and purchasers on their real estate investment."

She added that Rera was doing its due diligence and carried an updated status report on all the off-plan projects in Dubai.

Fadi Al Said, Head of Equities, ING Investment Management, Middle East, said the downfall of the real estate sector was not only because of speculative investors but speculative developers as well.

"Investors in the real estate sector initially pumped up the market and boosted liquidity. Many times, we only speak of speculative investors and not speculative developers. Many developers in Dubai also built without having a proper feasibility study in place." He added that ING did not face many redemptions in the past year as it had long-term investors.

Experts also urged efforts to ensure more accurate data and information sharing to exist within the emirate. "One always faces a problem when making assumptions. Facts and figures are important," Howladar said.
Keep up with the latest business news from the region with the Emirates Business 24|7 daily newsletter. To subscribe to the newsletter, please click here.
Follow Emirates 24|7 on Google News.