Rebar prices in UAE increase by Dh100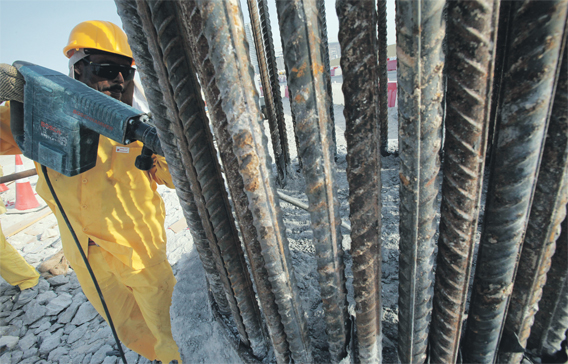 The prices of rebar in the UAE have gone up by Dh100 to Dh1,950 per metric tonne since end-February from Dh1,850 per metric tonne, according to the steel industry yesterday. A leading player told Emirates Business that the market is stabilising and has not witnessed any major fluctuations.
Riad Bsaibes, Chief Operating Officer of Amana Contracting and Steel Buildings, said: "I can see that our procurement managers are buying standard uncoated standard rebar at the current prices of around Dh1,950 this month against the low of Dh1,700 six to eight months ago. I think we have gone through the bottom of prices and are currently sitting at the bottom."
He said the fluctuations will witness and range around five per cent at the bottom, following which, the prices will go up in a slow trend. "If you track projects, the oil and gas and heavy industrial companies have been putting out tenders more than the real estate sector. The former have realised there is a low in the construction market and will get good prices for the tenders. At the same time, they have a good balance sheet to fund such projects and they can fund the projects," he added.
This was on the heels of Moody's Investors Service changing its industry sector outlook for Europe, Middle East and Africa (Emea) steel industry to 'stable' from 'negative' for the fundamental business conditions in the industry over the next 12 to 18 months.
On February 28, the state-controlled Saudi Basic Industries announced it would raise prices of steel rebar and wire rod by SR100 ($26.7) per tonne from March 1. Higher iron ore and scrap metal costs led to the increase, Sabic's Vice-Chairman for metals Abdul-Aziz bin Al Humaid said in a statement to Reuters. This is the first time Sabic has raised steel prices since 2008. Sabic controls the kingdom's biggest steel producer Hadeed.
And Shyam Bhatia, Chairman of Alam Steel, said: "The figure is much higher than that and stands at Dh2,250 per metric tonne for standard rebar used in buildings, whereas in January we witnessed a price of around Dh1,950 per metric tonne. The raw material costs have gone up substantially to around $370 per tonne from $310-320 per tonne."
Evraz Group SA's Highveld Steel & Vanadium in a Bloomberg report said on Tuesday that it is "positive" about steel demand and prices in the second quarter. Chairman Bheki Shongwe said: "We are sitting close to full production. Demand is growing from China and there is South African demand. This was reinforced by a statement from China Steel, Taiwan's biggest producer, that steel prices may rise as supply and demand have returned to levels before the global financial crisis.
South African government is spending R846 billion (Dh408.3bn) over the next three years to build power plants, roads and railways to help spur growth in Africa's biggest economy and boost jobs said the report.
Chinese steelmakers may push through 'rapid' price rises in the next two to three months because of rising costs, Macquarie Group said.
Meanwhile, Posco, Asia's most profitable steelmaker, said last month it will 'aggressively' pursue investments in mines as the costs of iron ore and coal escalate with the economic recovery. "The company will pursue investments in overseas mines more aggressively to secure raw materials," said Chung Joon Yang, Chief Executive Officer, at a shareholder meeting in Seoul.
Posco may buy a stake in a coal mine in Mozambique, it said in documents prepared for the meeting, without details on costs. Steelmakers are facing soaring costs, with analysts forecasting suppliers of coal and iron ore may ask for an 86 per cent jump in prices this year.
The global steel market has bottomed and will grow by 9.2 per cent in 2010 as demand rebounds in the US, Europe and Japan, the World Steel Association said last October.
Keep up with the latest business news from the region with the Emirates Business 24|7 daily newsletter. To subscribe to the newsletter, please click here.
Follow Emirates 24|7 on Google News.