All eyes on the centre of the ring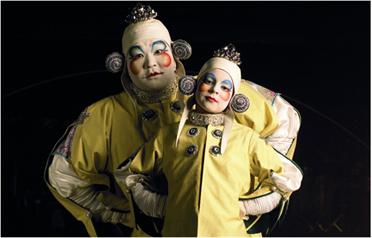 Britney's Circus tour isn't the only one making headlines this week. Cirque du Soleil is back in town following its first stint in Dubai two years ago. And this time around, the Quebec-based entertainment company has returned with a production that is set to spread some joy and happiness; much needed considering the current global economic times.

Alegría, which translates from Spanish to mean elation, exhilaration or jubilation, premiered in Dubai this week, at the Ibn Battuta Mall in Cirque's iconic blue-and-yellow grand chapiteau or circus tent.

It is a spectacular production that evokes a time when fantasy and magic were integral parts of everyday life; a time when a person's world was his family, his village, and beyond was the great unknown. The show is in stark contrast to Quidam, Cirque du Soleil's debut in Dubai two years ago, which, as one of the organisation's creative directors tells us, was darker and more serious.

"Quidam is more intellectual – it's more a statement about the current state of humanity and not derived from fiction," Carmen Ruest, who has been with Cirque du Soleil for 25 years, tells Emirates Business. "On the other hand, Alegría is more uplifting – it's very beautiful and poetic, so I find the show incredibly appropriate for these current times when everybody is feeling a little down by the world's events. "People will come out from the show smiling and feeling good."

Cirque du Soleil's founding President, Guy Laliberté, elaborates: "Alegría casts the world in a different light. Here, all the dreams are permitted, and you are the king, the poet, and the clown.

"The stage is a royal court where imagination reigns, where all the emotions of the soul are expressed, but where joy wins out in the end."

The Dubai leg of Alegría is in collaboration with real estate developers Nakheel, following a partnership struck between the UAE company and Cirque du Soleil to develop a permanent show on the Palm Jumeirah beginning in 2012 and expected to run over a 15-year period.

Brett Judd, Nakheel's Head of Entertainment and Leisure, agrees that this type of entertainment is in demand at the moment.

"Despite a change in the economic climate, there is still an audience for shows like Alegría," he says. "Uplifting entertainment is popular because people want to go to a show to escape from all the troubles in the world at the moment. Alegría is the perfect remedy."

Judd adds that demand for tickets have met expectations. "There will be 40 performances happening at the Ibn Battuta Mall, each performance can accommodate up to 2,500 guests, and some of the nights have already sold out.

"Many residents have taken advantage of the deals we have offered since tickets went on sale, which have offered up to 20 per cent in savings."

Alegría, which Cirque du Soleil states cost an impressive $20 million (Dh73.5m) to produce, features an international cast of 55 acrobats, musicians, singers, clowns and characters from 17 countries who will showcase their talents in a performance of over two hours.

A team of 80 was required to set up the show's tent in Dubai, and construction took an estimated seven days.

Beginning in Montreal, Canada, in 1994, Alegría was the brainchild of Laliberté, and led by director Franco Dragone. To date, the touring show has visited 65 cities across 17 countries, playing to over 10 million spectators in the process.

Ruest adds: "This show started 15 years ago, and it's still in big demand. There's no theatrical script, so it is a timeless concept. And no-one will ever be tired of joy and happiness."

Alegría's set is designed to reflect a nostalgic atmosphere, like that of a 17th century ballroom, while the autumnal tones create the luminous "obscurity" of the show.

Without going into detail, the costumes for those characters representing the "Old Order" are made from richly coloured fabrics and are painstakingly hand-detailed with lace, feathers and sequins. They evoke the flamboyant costumes worn at the court of Versailles.

The costumes for the Bronx and the Nymphs, who represent the "New Order", are made from lighter, mostly synthetic materials, and emphasise the agile bodies of these characters who will take control of the future.

The lively musical soundtrack varies between jazz, pop, tango and klezmer.

Alegría runs until April 5 and tickets are selling fast. But unlike 2007's Quidam, which was extended for another month due to popular demand, Alegría will not be adding any performances as the cast and crew are already booked for their next run. "There is no way the show will be extended, because Alegría is contracted to appear in another country straight after," says Judd.

"In fact, by the time the last group of guests leave the venue, work will have already begun on dismantling the grand chapiteau, as it all needs to be out of the UAE in four days. So my advice is to get your tickets as soon as possible."

Alegría will feature a daily evening performance, excluding Monday, and matinee performances from Friday to Sunday. In consideration of local customs, every show will also have a special family-only seating section.

Get your tickets at www.cirquedusoleil.ae, by calling 800 CIRQUE, or from Dnata Travel outlets. Prices range from Dh180 to Dh1,000, but customers can benefit from a 20 percent discount on bookings of four or more people for a Sunday, Tuesday or Wednesday performance.
Follow Emirates 24|7 on Google News.