Almarai says Pepsico JV will not cover Gulf sector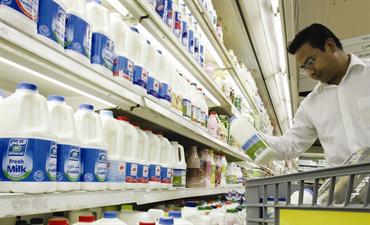 Saudi-based Almarai, the Gulf's largest dairy company by market value, said an investment joint venture with PepsiCo will not cover Gulf markets.

The two firms formed a joint venture to invest in dairy and juice processors in Southeast Asia, Africa and the Middle East, Pepsi said on Friday.

The venture will be called International Dairy and Juice and will be 52 per cent owned by PepsiCo.

Almarai will hold 48 per cent in the company, which will not be active in the six Gulf states, the Saudi company said in a statement posted on the bourse website.

Gulf states, which make up the Gulf Co-operation Council (GCC), accounted for almost 99 per cent of Almarai's turnover in the nine months to end-September 2008, according to a company financial statement.

"The scope of the joint venture does not include the GCC given... Almarai's dominance in the GCC dairy industry and its position as a top three GCC fruit juice player," said Laurent-Patrick Gally, analyst with Dubai-based Shuaa Capital.

The agreement is "theoretically, a good strategic fit", Gally said.

"The quality of targets and return on capital will be key. We believe Almarai could benefit substantially in terms of distribution network and capabilities, market knowledge and insights from Pepsico in the markets outside of its own GCC turf," he added.

Almarai's dairy and non-carbonated fruit juice product line represent a compelling complement to Pepsico's current product offering, Gally said.

Prince Sultan Mohammed Saud Al Kabeer Al Saud and Savola Group respectively hold stakes of 30.2 per cent and 27.9 per cent in Almarai.
Follow Emirates 24|7 on Google News.