Art attractive asset for many investors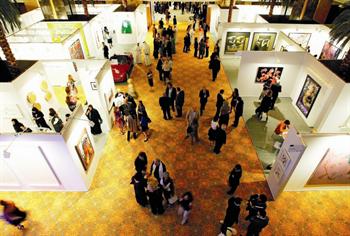 Art collection has been a passion for centuries with art lovers and dealers spending lots of money and wealth – and if we talk of today, it is in millions of dirhams. Dealing in art works, particularly that of modern and contemporary form, is becoming a growing business and source of income for many.

An art-piece can fetch from $100 million (Dh367m) to $500m today, but the art world has never been recognised or achieved a place to be called a specialised area of investment like any other sector of the world economy.

According to Mathias Rastorfer, an art expert and co-owner of Galerie Gmurzynska, which was founded in 1965 in Germany but now based in Switzerland, the art world has seen a remarkable success over the past 10 years in particular but throughout the 20th century as a whole.

While justifying the success, Rastorfer told Emirates Business in an interview: "The New York University professors Mei and Moses have created an art index of prices in the art market throughout the 20th century and have compared it to the S&P index (Standard and Poor's global index).

"Looking at this chart, the price of art is a steady curve upwards. Remarkable is also that the audience for art buying has steadily increased and includes today not only the traditional powerhouses of art collectors such as the United States and Europe, but also increasingly Russia, China, India and in particular the Middle East with important museums being built such as in Abu Dhabi."

Rastorfer said running an art gallery, rather than being an art dealer, is a combination of scientifically researched exhibitions, working with the leading art historians and museum directors, as well as finding important works and placing them with important collections.

"Representing artists and artist estates [the responsibility of a serious art gallery] lies in long-term planning and building up of a substantial inventory. Based on these long-term factors, a serious art gallery is a profitable business indeed."

About Gmurzynska, he said that in its now 45-year history, the gallery has continuously expanded and is today one of the top 10 galleries in the world for classic modern and contemporary art.

Asked why people shy away from investment in art, he said it was the contrary and explained: "In spite of the financial problems the economy is going through and partly also because of it, we had, as of recently, a number of new buyers who have withdrawn funds from banks to invest with us in art.

"Art has become for many diversified investors an attractive long- and medium-term asset class that has the added bonus of being independent from currencies as it is traded around the world and can be seen as 'mobile real estate' as it is now often revered to."

Rastorfer advises buying art as an investment should be considered as a by-product of building a collection, meaning that one has to start with the idea of building up a meaningful collection by buying works of substance by artists of historic importance and forming a group of works that either have a personal focus, or a selection of works reflecting one person's vision or focuses on particular movements, or time periods that make the collection stand out.

"One should build a relationship of trust with a gallery to not only be professionally advised, but also to have someone to turn to who is personally responsible for the advice that he has given you. Over a period of time, this develops into a relationship in which both sides know the taste, the preferences and what is missing in a collection so that one would know what you need to find in order to complete the collection."
Follow Emirates 24|7 on Google News.