Bal fashions his way to runway success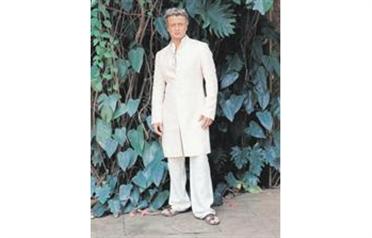 "I'm naturally a bit decadent, I think," says fashion designer Rohit Bal, "And flamboyant… of course, without a doubt. But I do it without being daft about it," he adds.

As one of the biggest names in Indian fashion, with a total turnover in excess of Rs500 million (Dh38m) Bal can afford a bit of self-indulgence. For, ever since he launched his own label in 1990, he has successfully opened a dozen Rohit Bal stores across India (with plans for 20 more), two restaurants (and another two on the way), started a successful home interior range, a jewellery line and is now all set to announce a fragrance and introduce an underwear collection.

"There's a huge untapped luxury undergarment market in India," he says.

He's also dressed some of the world's most beautiful people – from Uma Thurman and Elizabeth Hurley to Pamela Anderson, Cindy Crawford and Naomi Campbell to Anna Kournikova. And his solo shows in the fashion capitals of Paris, London and New York have ensured a global fan following for the 30-plus "master of fabric and fantasy", a title awarded by one American magazine.

Bal, who has also been the Indian brand ambassador for Swiss watchmaker Omega, says he is on an "expansion mode" and his business acumen is already attracting private equity investors from the Middle East, although that is all he is willing to reveal at the moment.

"I'm a complete package," he says, in all humility, when pressed about how he's managed it all. "I have a kind of madness, an eccentricity… actually I think I'm completely mad. And there should be a method to the madness right?

"All of these things just happened and I really don't think of them as work," he says. "I do it because I can. The minute I realise it has got out of hand, I'll stop.

"In all seriousness, it's all about hard work, a lot of struggle and determination. I firmly believe that the harder you work, the luckier you get.

"I have to admit however, that I have been privileged in many ways," he adds, as a statutory explanation.

Born into an affluent Kashmiri family, New Delhi-based Bal joined his brother's garment business and worked with him for eight years before launching his own label. His first collection, which debuted in 1990, was a traditional line of garments for men. Ever since, Bal has been known for his unique collections of fabrics and textiles, putting him altogether in a league of his own.

"My USP is that I have India in all my creations," he says. "From embroidery to tie and dye and block printing, it's Indian craftsmanship at its best. I think that is what people in the fashion business around the world identify me with.

"I don't want to carry coal to Newcastle. I only want to do what I'm best at."

Bal also attributes a lot of his success to freewill and honesty.

"My work reflects my attitude to life. I have never branded it any other way and it has always been who I am. And I think that honesty is very important. Which is why I have always been open about everything including my business ventures."
When Bal started off about 18 years ago, the Indian fashion industry itself was almost non-existent. Now, according to the last study conducted about two years ago by the Fashion Council of India, it is estimated to be worth more than Rs5 billion.
"It was Rohit Khosla who made it all possible for me," says Bal, referring to the late designer who has been referred to as one of the pioneers of the industry. "Today, so many of the designers have been my assistants at one point. That's a bit strange but it also makes me feel very proud."
The designer, who was in Dubai recently to promote a platform for Indian and Middle Eastern designers to work together, says he is looking at more retail points in the UAE and across the region. "I don't really need to open a store in Dubai," he says. "I have been working with great buyers here for many years. I am now retailing at Saks Fifth Avenue, Jashanmal and Harvey Nichols."

Bal also adds that despite the reputation he's built for himself, he still insists on taking the time to personally meet buyers, interact with clients and be up to speed with the latest in the industry.

"I really don't intend to be smug about [my success]," he says. "When I start feeling that way is when I will stop growing. There is always room to grow, new avenues to explore and initiatives to start."

Still, these are difficult times with even international fashion houses buckling under pressure from the effects of the financial crisis, as evident from the recent Paris Fashion Week. "Yes, it scares all of us," says Bal. "A lot of smaller designers won't last and many of those catering to the mid-range will be out of business. But it really won't make a lot of difference to the clients that I cater to. The price for many of my creations is insignificant money for them.

"But of course no recession can last forever and we have to look at the bright side of it. For instance, now is a great time to buy property and invest. In fact, I'm going to Bombay to look for properties for possible new stores."

No ailing economy can stop the resolute designer and savvy businessman it seems. "What can I say, I'm a ridiculously romantic optimist," he replies.
Follow Emirates 24|7 on Google News.