Barbie moves to China to escape the recession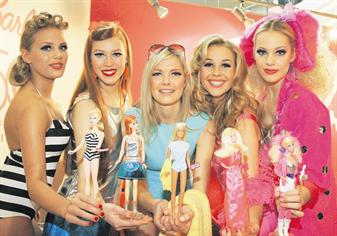 As consumer demand slumps in the United States and Europe, Barbie has packed her matching pink luggage and moved to China.

Mattel Inc, the world's biggest toymaker, shunned London and Paris for the first dedicated store of its bestselling toy and chose instead a six-story building in Shanghai. The outlet, which opened yesterday, offers everything from outfits styled by Sex and the City costume designer Patricia Field to beauty treatments and many more.

"I like her clothes and shoes," says 11-year-old Li Qiunan, who has 14 of the blond, blue-eyed dolls and is scouting for another at a preview of the store on Huaihai Road. "Barbie is charming and attractive."

Mattel is looking to China for growth after fourth-quarter profit fell 46 per cent on the worst US holiday shopping season in four decades. The new store will be the first of a global chain as Mattel expands "aggressively" in China and abroad, says Richard Dickson, general manager for the Barbie brand.

"We are betting on China's future," he says, refusing to disclose the cost of the store in Shanghai's main shopping district. "We are betting our brand will resonate in China and we are investing heavily."

About $3 billion (Dh11bn) worth of Barbie-branded products are sold every year. Barbie dolls are made in China and Indonesia, says Lisa Marie Bongiovanni, a Mattel spokeswoman.

"Mattel is looking to China to offset dwindling sales in the US," says Shaun Rein, Shanghai-based managing director of China Market Research Group. "It's smart for them to increase investment here when the Chinese consumers are increasing and the US consumers are suffering."

China retail sales growth was at least 19 per cent in each month of 2008, peaking at 23.3 per cent in July, the fastest pace in at least nine years. The Chinese government is implementing a 4 trillion yuan ($585bn) economic-stimulus package to sustain growth and prevent a decline in exports from driving the world's fastest-growing major economy into a slump.

US retailers, meanwhile, face the first annual drop in sales in at least 14 years, according to the National Retail Federation. December retail sales in the world's biggest economy fell 10.5 per cent from a year ago.

Mattel earned 51 per cent of last year's $5.9bn sales in the US, with Europe contributing 26 per cent and four per cent coming from Asia. The company's foray into China, where about 65 per cent of its toys are made, hasn't been all smooth.

In September 2007, Mattel apologised to Chinese authorities after a recall of 21 million toys made in the country, including Barbie kitchen sets with excessive amounts of lead paint and Polly Pocket dolls with magnets that kids could swallow. After initially blaming contractors, the toymaker admitted responsibility for faulty designs and said it stepped up product inspections.

Yesterday's opening is one of the events El Segundo, California-based Mattel has planned to mark Barbie's 50th anniversary on March 9. Barbie has an added appeal in China, says Laura Lai, general manager for the brand in Shanghai. Women as well as kids are buying the wasp-waisted doll because many "missed out" on the toys when they were young, she adds.

"Our research found that people in their 20s find they can relate to Barbie," says Lai. "The Barbie brand is still new in China and has strong potential here."

To win fans in China, Barbie will have to take on better established brands such as Japan's pale, wide-faced Hello Kitty from Sanrio Co, says Paul French, founder of Shanghai-based market research company Access Asia.

"Dolls here don't mean a Barbie doll," he says. "Kids here are into the Japanese and Korean-type figures."

Still, Mattel could benefit from the growth of income levels in the country, which will boost consumption, says Edward Tse, Greater China managing director of management consultants Booz & Co. "While Chinese consumers like traditional products, they also like foreign brands which have a distinctive image."

In Shanghai, the 37,700 square foot Barbie store will splash the brand over mobile phones, MP3 players, bed sheets and stationery. "Barbie-inspired" clothes and accessories, some styled by Field, who was also costume designer for The Devil Wears Prada, are available in children and adult sizes.

The outlet will offer massages, beauty services, hairstyling, and manicures. Children can pretend to model clothes on a fashion runway or design their own dolls.

A restaurant on the top floor is set to open later this month.

At the preview, six-year-old Zhu Yunyao's grandfather spent 1,000 yuan ($146) – almost half the average monthly urban wage in China – on a designer doll, outfits and Yunyao's turn on the runway. "I like everything that's in pink," she says.
Follow Emirates 24|7 on Google News.