Bargains galore as electronics traders engage in pricing war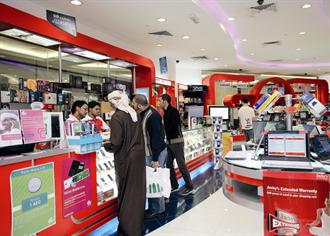 With electronics manufacturers around the world desperate to increase sales in challenging times, traders and distributors in the UAE are engaged in a price war to clear their inventories.

As the major electronics manufacturers such as Samsung, Hitachi, JVC, Toshiba and Panasonic are slashing prices of their products, their main distributors in the UAE are trying to woo customers through special promotions and discounts.

Leading electronics traders told Emirates Business that the market is witnessing a spate of attractive promotions and bundle offers to clear the accumulated inventories and improve liquidity. Traders are keen to clear the stocks accumulated last year at high prices and banks are putting pressure on trade financing terms, they said.

Hem Merchant, Assistant Manager, Sharaf DG, said: "The electronics market situation is not very good because business has dropped by about 30 per cent. We don't expect high growth rate. Last year we managed to achieve our sales target, but it is too early to predict what is going to happen in 2009. People are looking for free and bundle promotions and big brands and companies seem desperate to sell through crazy offers."

He said customers who are looking for good bargains can expect more such offers during the Dubai Shopping Festival (DSF).

"Brands are sitting on huge inventories and huge sales to clear off stocks can be expected. For example, prices of LCD television sets are falling at an unprecedented rate and there is a price-war situation in the electronics market. Traders who have purchased huge quantities of the stock directly from the companies are expected to sell at throwaway prices," Merchant said.

The price of an LCD TV that earlier retailed at Dh2,500 to Dh2,800 has come down to about Dh2,000. Unbranded LCDs are available for Dh1,400 to Dh1,500, he said.

Mobile phones, laptops and information technology products are hot products in the electronics market and consumers grab any bundle offer for the latest iPhone, laptops or mobile phones.

Ashish Punjabi, Chief Operating Officer, Jacky's Electronics, said: "The segments that normally bear the major brunt of slowdowns are sectors such as property and automobiles where the average ticket value is anywhere between five to seven digits. In the electronics market, we will still see people continuing to purchase, but it will be value for money rather than fashion appeal that will influence their purchasing decisions."

He said in the last couple of years there has been a clear trend towards shorter product life cycles but with more product variety.

"This year, I think we may end up with longer product life cycles and less variation in products as this will make it easier for manufacturers and retailers to make their products cheaper. Longer product life cycles mean less re-tooling at the factory level, greater economies of scale in manufacturing and better management of inventory," Punjabi said.

Last month, when Samsung reduced the price of a 32-inch LCD television to Dh1,999, Sony followed suit by slashing price to Dh1,999 and Hitachi to Dh2,049.

"When one distributor is slashing prices, we have to follow suit. Otherwise customers will go to dealers giving the special offers. Japanese electronics giants, Sanyo and Panasonic, are in merger talks after Kenwood agreed to merge with Victor Company of Japan. Toshiba, another leading electronics company, plans to cut its Nand memory production by approximately 30 per cent this year as it is posting dull sales figures due to the global recession and the slowdown in consumer spending," said a source at Oasis Electronics, the leading distributor of JVC and other electronics brands.

Ashish said: "We haven't seen the fire sales here that have been the case in some Western markets because the UAE is still relatively better off than many parts of the world. There was probably a lot of excess inventory in many Western markets where a huge jump in sales that traditionally happens before Christmas was expected. In this part of the world, we do experience a jump in December but nowhere near what you could expect in the European or US markets."

The electronics industry is still going to be relatively better off because the trend of gifting such products on special occasions has been growing steadily. As some gift items, such as jewellery, are quite expensive, electronics products such as digital cameras, MP3 players, mobile phones and laptops are preferred by people to gift to their loved ones.

"Sales figures for 2008 have been considerably lower than the previous year. Manufacturers are desperate to sell their products and wholesale agents like us pass on the benefit to the end users. Wholesalers don't suffer any big loss because the manufacturers are reducing prices," said the source at Oasis Electronics.

According to Abhilash Mathew, Marketing Executive, Nikkai Group of Companies, an electronics manufacturer and trader, the global economic slowdown has affected the sale of high-end products.

"Higher end models, especially LCD TVs, are not selling too fast now because people are reluctant to spend too much. Consumers who expect prices will come down further during the DSF are postponing their purchases. Some traders seem to be desperate to clear old stock by slashing prices and launching special promotions and bundle deals. The pressure in the retail sector is also felt in our wholesale trade," he said.

Mathew said traders who purchased stock at high prices last year are keen to clear the inventory because prices of electronic items are fast coming down.

Non-branded electronics products are also available in the market at relatively cheaper prices than the branded goods.

The manager of Nabil Rashid Electronics, wholesale and retail dealer in electronics and home appliances, said: "We are witnessing record sales because many companies are running special offers. A lot of customers are availing the 'buy one and get one free' offer. If you buy a Nokia N73 mobile, you get one phone free. Our year-end sales were much higher than the previous years."
Follow Emirates 24|7 on Google News.