Bloomie's is a hit –at least on the price front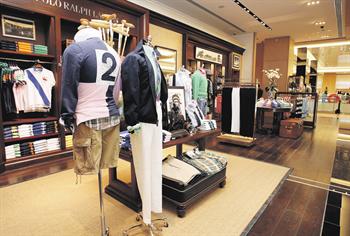 You would have had to have had your head buried under a pillow in recent days to have missed the fact that Bloomingdale's is finally here. Every newspaper had the story about the first outlet outside the United States opening to the public yesterday.

But what's it all about? Admittedly, I haven't been to the original New York store but the US outlets I have been to mixed designer and high street brands and prices. They're a one-stop shop for all a shopper's needs, whether they need sheets, a shirt or serving dish and while you can find all of those in The Dubai Mall, it's just not the same.

The store is light and airy and the clothes are spread out so everything is easy to find but there's one major problem with what's on offer; it's all designer. There are none of the middle of the road fashions that department stores of this nature usually have. Whether they think this is what Dubai wants I don't know, but I was hugely disappointed to find it doesn't stock the basics people need.

In many ways the store reminds me of Harvey Nichols, which is perhaps Al Tayer influence as the company owns both franchises. I've been told in recent days that Bloomingdale's is under-staffed but this did not appear to be the case yesterday for there were black attired sales assistants in every area, all of whom were polite and friendly.

There is also the added bonus of direct access to The Address Dubai Mall hotel lobby on the ground floor. The other problem is that department stores by nature have everything under one roof. Not here. The Home section is in a different part of the mall. The main store has cosmetics and accessories on the ground floor, with women's fashions on the first floor and children and men's items on the top floor and everything is easy to navigate. But then having to go back into the mall and get into a lift before reaching the Home store isn't ideal.

Once inside, however, it's a haven of luxury. Designer bed linens sit alongside bathroom accessories, with sofas, dining tables and other furniture through open alcoves. There's also the kitchen shop, art collection and Bloomingdale's own merchandise. I've been carrying their Little Brown Bag every day for 18 months and perhaps now my colleagues will finally get it. I was a little confused though that they were in the home store and not with the other accessories in the main one. Prices of "Brown" merchandise, however, are very good and in line with those in the US, if not slightly cheaper. I did wonder if it would be inflated for this market but happily, it's not.

For the first day of trading, it was not as busy as I, nor others, expected but I'm sure as word spreads, more shoppers will descend. But with such a famous name, Bloomie's needs to stick to what it does best rather than adapt to a different market. It's Bloomingdale's and people are going to go regardless, but I hope the new collections also offer a wider variety of choice – and price points.
Keep up with the latest business news from the region with the Emirates Business 24|7 daily newsletter. To subscribe to the newsletter, please click here.
Follow Emirates 24|7 on Google News.