Borrow a bit of luxury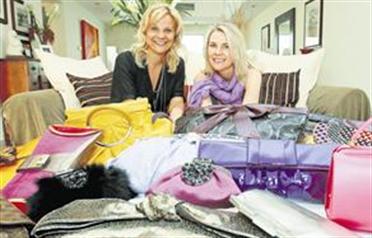 If you can't buy it, rent it.

As business philosophies go, this one, promoted by two businesswomen in Dubai, is proving to be quite a hit amongst their target audience. And thanks to the current economic scenario, it's catching on fast.

Barely nine months into the business, British partners Danielle Wilson and Sarah Eccleston are saying their luxury bag-rental website, Mapochette.com, has grown so much that fans outside the UAE are now requesting a similar services.

"We went from an average 100 unique hits a day six months ago to about 2,500," says Wilson. "We now have more than 10,000 active women on our database – that's more than 100 per cent growth. Deliveries average about four to eight a day."

Although not an entirely original concept, Eccleston says the model has caught the fancy of UAE-based women of all ages and backgrounds, "who want to keep stylish but who are not willing to shell out a fortune".

"It's the perfect opportunity for them to own for a day, or a few days, something they might never buy themselves," she adds.

Popularised by US-based Bagborroworsteal.com, which gained popularity after being featured in the movie Sex and the City, the concept is rather simple [see box]: Customers log on to the website, browse through categories and choose their favourite bag. They then pay rental and delivery costs online and the bag is delivered to their doorstep the next day. Borrowers can specify the length of rental or have the bag exchanged for another one. What's more? If they fancy owning one, they could have it at a lower price.

But Mapochette.com, goes one step further, explains Wilson. "You don't just get the bag delivered to you. It comes in a nicely packed box with pretty ribbons and we've partnered with a number of companies to offer free cosmetics and other accessories," she says.

"So you actually get a lot more in return. It's all about creating an idea of luxury, to make you feel pampered and has an added value."

The company currently delivers throughout the UAE with designer bag brands including Christian Dior, Jimmy Choo, Manolo Blahnik and Gucci. While the retail price of these luxury items range from Dh3,500 to Dh11,000, renting one would only cost a fraction of that, says Eccleston. The rental price ranges from Dh159 to Dh500 a day depending on the price of the bag.

"We've lately started introducing brands and designs that are not available here," says the marketing executive and mum-of-three who shuttles between Italy and the UK. "And we get new stock every three months. My being based abroad ensures that we have the latest from London, Paris or Milan. We are currently working on partnerships to include more exclusive designers from Europe that do not retail here."

The website is already associated with popular locally-based designers and is looking to further explore that concept, says business partner Wilson. "Fashion designer Aiisha Ramadan has created her first handbag exclusively for us, which is available to rent and Zufi Alexander will partner with us for some of our future events," she says. "In turn, we promote them on the website."

The pair also organise what they call "brand sampling" events where a group of women with similar interests is given a sneak-peek of new collections by their partnered designers.

International designers are also wanting to find out more, says Wilson. "We are in talks right now with a luxury Italian brand to sell their products exclusively on our website. There are many brands that don't want to set up a store here yet, but want to enter the market. It is the perfect platform for them."

Talks are on to auction some exclusive Birkin bags, she adds. A handbag design made famous by French luxury leather goods company Hermes, the price of a Birkin bag usually starts at Dh30,000. Allegedly, the waiting list is over two years.

Wilson, who's been a resident of Dubai for 13 years, says the idea for Mapochette.com came about while she was still working as a marketing and PR professional. "There were so many events we had to go to and each time we wanted to make an impression. Obviously we couldn't afford to buy new bags to suit every outfit. Then we heard about this website in the US and thought of replicating it."

By June 2008, Wilson and Ecclestone – best friends for 10 years – had a website ready to go live.

Ever since, their approach has ensured the website's popularity, says Wilson. "We sometimes go with the driver, interact with customers directly over the phone and get their feedback. We also help out some of our clients who have no clue what to wear to an event – whether it's a wedding, a fashion show or a business event."

Plans are also underway to export the model to other GCC countries and beyond. "We've had lots of enquiries from women based in nearby countries," adds Wilson. "The next phase now, is to take it internationally."

But according to Eccleston, while the website continues to grow, appreciation has come in from the most unexpected of quarters.

"Lots of husbands love us," she says. "They thank us for the concept and tell us that we've saved them fortunes.

"It's just a great concept. You can have anything you want but without having to take out a mortgage. I think it's the ultimate credit crunch shopping."
Follow Emirates 24|7 on Google News.