Capital plan for leisure sport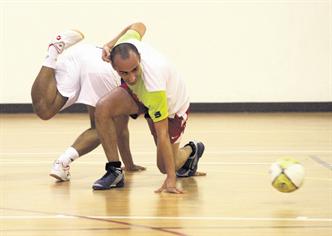 Recreational sport for adults comes to the capital next week as Duplays kicks off its new season with the official launch of its Abu Dhabi leagues.

The organisation, which began in Dubai in autumn 2007, has grown quickly in the capital with 700 players registered for the season beginning January 24, from the 500 that played last October. They had just 50 players when the first league, ultimate frisbee, began in Dubai.

This expansion is the first step in Duplays' plans to grow recreational sport in the Emirates. Corporate leagues and inter-university competitions are also on the horizon.

Co-founder and Director of Operations, Derv Rao says: "There was nothing in Abu Dhabi for adults but the numbers have exceeded our expectations. The biggest question people ask is whether they can still play if they're not at a high level as they think you have to excel at sport but we have different leagues for different levels.

"There are fewer people living in Abu Dhabi because many commute from Dubai but there is still a need to service the community. Due to the commute people also want sports that start at 6pm so they can play before driving home. We're working on that."

The main problem Rao and his partner Ravi Bhusari face is the lack of available venues. This is no different from Dubai, which is why they hire school facilities. But these do not come cheap; up to 40 per cent of each league's income goes to the venue.

They now offer 10 sports in Abu Dhabi, including basketball, volleyball and touch rugby, with tennis and dodgeball on the horizon and plans to include the 15 sports offered in Dubai.

"Having already started numerous sports in Dubai, we know what to do now. It also gives us more clout while negotiating with venues," says Rao. Here lies another problem. The founders have said in the past their aim is to have their own venue. They are happy to build a centre if land is donated but they are also pushing for more government-backed centres.

"For a country that emphasises on diabetes, I don't think enough is done with sport. Putting adults in a gym is boring and will not engage them in the way recreational sport will. It will be a better experience to get them started and they can do it with friends because of which we need government-backed centres as they do not make a lot of money," says Rao.

In the meantime, Duplays will continue to expand their own leagues, many of which have been started because of public demand. "People are hungry for sport in Abu Dhabi so we've found they don't just join one league because they've been starved of it for so long," said Brian Sigafoos, Duplays' Director of Web Development.
Keep up with the latest business news from the region with the Emirates Business 24|7 daily newsletter. To subscribe to the newsletter, please click here.
Follow Emirates 24|7 on Google News.