Confident Crocs marching on again after hitting a stumbling block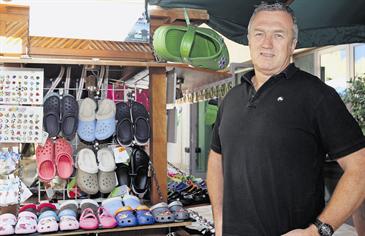 Very few products in retail have had such a polarising effect as Crocs. Worn by rock stars and presidents' wives but completely dismissed by the fashion fraternity, these colourful foam clogs with holes – love them or hate them – have attained both popularity and worldwide ubiquity since they first appeared in 2002.

But today, dogged by rumours of its manufacturers going bust and an apparent oversupply, the brand is determined to put up a fight to stay relevant and in demand.

"[Crocs] is not going anywhere," says Michael Brown, the owner of Iqdam International, the exclusive distributor of the products in the Middle East. "It's certainly going forward. It's definitely not going out."

Brown, who set up his company in Dubai in 2006 to specifically sell Crocs, feels compelled to reiterate the brand's health after a damning report in a US daily last year cast doubts. Soon after, rumours were spreading on social media networks that the company had all but gone bust, spreading concerns among shareholders.

"I think that was a highly irresponsible and ill-informed article that caused a lot of concern within the industry and investors in general," says Brown. "The first half of last year was a bit sticky, but it was for everyone. To say that the brand was as good as dead, that it had catastrophic levels of high inventory, that it was a tired brand and a one-shoe company… I think that was wrong."

The company did suffer in 2008, Brown admits. Buoyed by its popularity and demand, it had pushed manufacturers into overdrive, only to be caught by the recession as consumers cut their spending.

In the third quarter of 2008, Colorado-based Crocs Inc reported a net loss of $148 million (Dh543.16m), compared to a net income of $56m in the same period the previous year. By the end of 2009, however, it reported a net income of $22.1m in the same period.

"What's happened is the inventory has been massively brought down. There were some positions that were shaved off and we've now got rid of virtually every backlog. There was also quite a big stock write-off," says Brown. "But everything is right and balanced now and we're looking forward to releasing the latest collections. I'm still gearing up for higher volumes that I believe are coming."

For someone who has only seen year-on-year growth, Brown's enthusiasm is understandable.

After opening his first kiosk in Dubai in 2006, he now operates more than 280 across the Middle East, covering the GCC states Lebanon, Syria, Afghanistan and even Iraq.

"It was a big hit right away. When I started doing it, I thought I would be lucky if I sold half of what the South African distributors were selling, which was about 20,000 pairs a month. Soon we were averaging 35,000 pairs but our record month was 54,000.

"We were, however, down in 2009 and there were a number of things that affected our performance. The exchange rate didn't help, the recession definitely didn't help and there was a big de-stocking by retailers who in every category, not just ours, took a very long hard look at their inventory and realised that when times are tough, they need to keep the bare minimum.

"We had a particularly bad first quarter, although we were still averaging about 15,000 pairs a month. But we had a strong second quarter, with more than 20,000 each month and towards the end of the year, we were feeling more confident because it was demonstrated to us that there was a continuous demand for our core products."

Now, with 13 kiosks in the UAE alone, a fully fledged store in The Dubai Mall and a recently opened store in Dubai Outlet Mall, Brown says he is on an expansion drive.

"Standalone stores are now becoming a strategic imperative because of the brand's growing lines. We have two more stores to open in Kuwait and are looking at potential partners in Saudi Arabia and Lebanon."

But the core identifier of Crocs and its sales driver will continue to be the original clogs with holes, he adds, albeit with a bit of variety in colour and design.

"We have diversified heavily from the original design onto other interesting and higher-value products from leather to winter shoes.

But the core product will remain the same, along with our accessories."

Crocs has also partnered in the past with a number of merchandisers to design its "jibbitz" – decorative pins that can be clipped to the ventilation holes of the clogs. From big-budget Hollywood films to the Emirati animation characters from Freej, the accessories have played an important part in the brand's success, says Brown.

"Personally I am confident, not just about the brand's survival but its continued growth," he says. "Crocs is looking good for the future. One hundred million people can't be wrong."
Keep up with the latest business news from the region with the Emirates Business 24|7 daily newsletter. To subscribe to the newsletter, please click here.
Follow Emirates 24|7 on Google News.