Electronics retailer eyes DSF to boost sales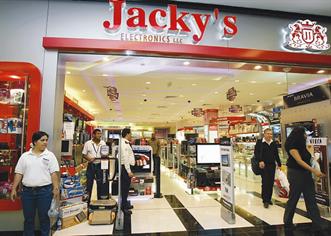 Retailers in the UAE are optimistic to buck the global trend of slowdown in sales.

Despite the retail industry reeling under global economic crisis pressure, there will be room to expand to sustain the present level of business, if not better the previous year's performance, said retailers.

In the times of crisis, it is branding of malls that is pushing sales, according to a retailer. "The ongoing global economic slowdown is impacting everybody and industry segment. However, we are going ahead with our expansion plan," said Jacky Panjabi, Managing Director of electronics retailer Jacky's Electronics.

"Tourists are main draw at the malls. Even with buying activity slowing down, we are able to sustain on the demand from tourists. And malls attract tourists. Hence, it's brand image of malls that is pushing retail sales."

Jacky's, which has retailing presence in Hong Kong, Singapore, China, Africa and the Middle East, is expanding its network of showrooms in the UAE.

Coinciding with Dubai Shopping Festival (DSF), it opened a new outlet at Dubai Mall, second in the same premises and 11th in Dubai. It is planning to set up two more this year, taking the total number to 15 in the UAE including two in Sharjah.

"It's consumer-driven market that determines product sales. Retailers are keeping what consumers are asking," said Panjabi.

Relying on growing culture of malls in retail shopping, he said that he prefers to stick to malls rather than going for a street outlet.

"We look at the long-term prospects. If we considered the present scenario, we don't prefer to set up new outlet. It's correction for the industry and the markets will recover soon. A good number of newly constructed houses will be handed over to customers this year and this will bring in new demand for consumer electronics," he said.

Corporate majors sitting on huge inventories are offering big discounts to promote sales. Coupled with this, add on discounts during special occasions like (DSF) would further boost sales, Panjabi said. "We find that during DSF, sales would go up by 100 per cent," he said.

Reacting to a question on sustainability overshadowing profitability, Panjabi says: "In a consumer-driven market, no retailer can overcharge. In fact, we look at us as customers to find out customer psychology and buying pattern. It's the volume that determines sustainability. Without bothering about margins, retailers are offering huge discounts to push sales to maintain volumes for sustainability in the present times of crisis."

Replying to question on whether present meltdown has eased costs like lease/rentals at malls, Panjabi said: "We are expecting lease cost at malls will come down. Prices are coming down significantly, but lease/rentals haven't. We need support from the landlords."

Jimmy Patel, General Manager (Retail) of Jacky's, said: "We wanted to be part of the biggest mall so that we can reach out to our customers. We are optimistic about higher sales during the DSF. From the last November to till date, we saw a drop of 15-20 per cent in sales. To promote sales during the DSF, we have invested vast amounts in sales promotions. In addition to the discounts offers from electronics manufacturers, we are topping them with our special freebies."

"Our first outlet at Dubai Mall focuses on photography, IT, games and mobile phones while the second one takes care of appliances, accessories, complete audio-video range etc.
Follow Emirates 24|7 on Google News.