Furniture chains expect tough year ahead as crisis slows sales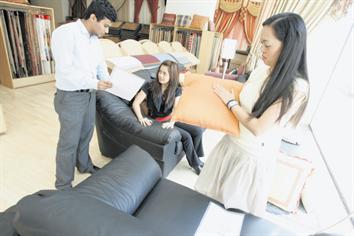 Furniture chains in the UAE are expecting a tough year because of the economic slowdown even though Ikea has reported that its sales in the country grew by 10 per cent in January.

"From an Ikea perspective, the normal growth has slowed down from the previous couple of years," said Siddarth Bhide, the company's Dubai-based Country Operations and Project Manager.

"The worldwide economic slowdown has had an effect almost everywhere and no one is isolated. We have reported a 10 per cent growth in our sales this January compared with the same period in 2008, but the growth could have crossed 30 per cent if the economic climate had remained the same. But we are still seeing double-digit growth."

He said the next six months would determine the company's expectations and plans in terms of setting targets and developing strategies.

"We know for sure things will not be as they were in 2007 and 2008. All sectors of the market are going through a correction stage. Ikea and other furniture retailers may face a challenge maintaining the flow of goods and ensuring a steady cash flow as inventories build up. Keeping goods in stock for too long will cause problems."

Viraf Raimalwala, UAE General Manager of Homes R Us, said people tend to tighten their belts when it came to spending on certain items including furniture during a slowdown.

"I cannot say our sales have grown compared with the same period last year," he added. "We have seen a very slight decline but I cannot disclose exact figures for volumes and percentages."

But despite the slowdown both Ikea and Homes R Us are expanding their stores.

Bhide said: "Our expansion plans for our store in Abu Dhabi are continuing. Once completed it will be bigger than the one in Dubai." Ikea's store at Dubai Festival City has an area of 25,000 square metres, while the expansion of the store at the capital's Marina Mall will increase its size to between 25,000 to 30,000 sq m.

Meanwhile, Homes R Us plans to open an outlet at Bawadi Mall in Al Ain by early March. Raimalwala said: "It will be strategically located on the road to Oman."
Follow Emirates 24|7 on Google News.