India unveils 'fastest to wear anti-bullet vest', expects deals with the UAE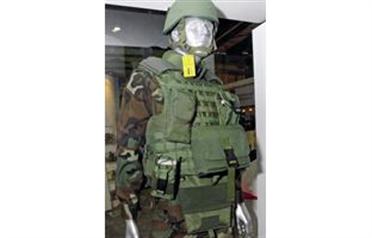 To the sound of deafening music, emission of artificial smoke and applause of scores of people, India yesterday unveiled what it said was the world's fastest to wear anti-bullet vest at the International Defence Exhibition 2009 in Abu Dhabi.

Visitors to the five-day defence show, which ends today, began clapping when they watched a five-minute live demonstration of how the vest can be donned in just 30 seconds and taken off in less than a second.

Dubbed as 'Instavest', the jacket was tried on by several company staff members in an apparent bid to persuade the audience that it is really the fastest.

"Yes…it is the fastest…when I say the fastest in the world, I don't mean it is one of the fastest vests but the fastest of all," the bearded Indian delegate told a big crowd that surrounded the company's stand to watch the performance.

MKU, a major Indian weapons and security equipment producer, said it was showing the vest for the first time as it was produced last month.

Although it has not been sold to any country yet, the company expects strong demand for the jacket on the grounds there had been much interest in it by many armies and police forces during the development stage.

"In life threatening situations, a split second is all that a soldier has…he needs to react swiftly to avoid drastic consequences. Instavest is a revolutionary ballistic jacket which incorporates the quickest instant release system to divest the vest in a single action in less than a second," said Jayanta Chatterjee, Assistant Manager of MKU's Security Equipment section.

"It is our latest product and is a patented system… It is really the quickest vest in the world because it takes a split second to take off and only 30 seconds to put on… The average time for other vests to put on and take off is six minutes."

Chatterjee said such an advanced and easily donned vest could save lives during conflicts and at the same time allow swifter action given its light weight.

"Suppose that you are in a battle and want to swim across a river to the other side….you need to take the vest off to escape hostile fire and plunge into the water. Perhaps if you are late by one second, you might be shot," he said.

"After you take off the vest and swim to the other side, you might be faced by more hostile fire…so you need to quickly put the vest back on… In this situation, every second will count and any delay could cost your life," Chatterjee said.

He said military delegates from many countries had shown interest for the vest during Idex.

And the official expected negotiations with the UAE for sales of the vest. He declined to reveal its price but said it is a "very price competitive jacket".

According to a company statement, the vest is a result of extensive research and development and user feedbacks. It has no metallic parts or components to re duce the risk of secondary fragments on impact.

"Its unique ergonomic design and an advanced load distribution system allow for very comfortable body movements, good ventilation and heat dissipation, making it an excellent performer in extreme weather conditions ranging from sub zero to 60 centigrade… Instavest is also compatible to aircraft and ground infantry vehicle specifications during aerial delivery operations."
Follow Emirates 24|7 on Google News.