Inspired Beck cooks with soul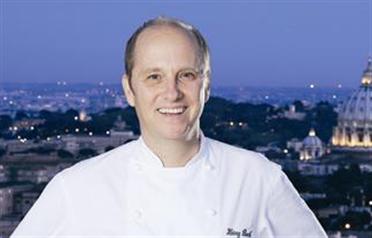 Considered by many to be the Michelangelo of the culinary world, triple Michelin-starred Heinz Beck has been described as the most important chef in Rome, and his restaurant, La Pergola at the Cavalieri Hilton, one of the best in the Eternal City. Inspired by anything and everything under the sun, he serves up innovative food such as cannelloni with duck, foie gras in kuzu béchamel, and one of his most talked-about dishes, salt cod snow, made with liquid nitrogen. Sharing his culinary philosophy with Emirates Business, he talks about why the soul of a dish must come through and why the client is king – something Michelin-starred chefs often forget.


Why do you work in a hotel rather than on your own, in a restaurant of your own, like other top chefs?

I haven't had the opportunity to break out on my own yet. In Rome, it is very expensive to buy a restaurant, so I don't bother myself about this. But I'm still young, so maybe one day.

Have you thought about opening in Dubai or Abu Dhabi?

It depends on the offer – if the right offer comes along, why not? At the moment, I haven't got any plans.

So are bookings down with the credit crunch?

It hasn't affected us yet. But the whole thing has just started, so it hasn't dropped yet. Last year, we were up 10 per cent, hopefully we can do the same this year.

Does anyone ask Heinz Beck to cut costs?

No. Nobody has asked me that yet.

You're from Bavaria, so what drew you to Rome? Do you think about going back to open a restaurant in Germany?
The opportunity came my way. The Hilton rang and asked me to do an interview and I liked the place, so it all worked out. I don't think about going back to Germany. I didn't plan on going to Italy, I've now been there 15 years. In life, you never know what the future will bring and especially so with this crisis...

Why is your food inspired by so many different things, from master painters to Italian mountains?

If you inspire yourself solely by food, you're always going to go in the same direction. You need to find inspiration far away and connect that to the food business, to the taste of a dish. So you bring the emotions from a piece of art into a dish. It isn't just important to be different, but also that your customers are happy with the meal.

You're known for dishes such as salt cod snow, which uses liquid nitrogen in the cooking process. How important is such magic to Michelin-star cooking?

These things are only used to complete a dish, not to make a show. I wouldn't sacrifice a dish or its taste for the presentation.

But you say food needs to have the right packaging around it...

Yes, but taste is the most important. And digestibility – the food must be healthy for your body. If it isn't healthy and well balanced, I won't put it on the menu. Once the dish is stabilised, that's when you start to make it beautiful. And if the plates look well, it satisfies the artistic part of my being.

What is it that drives you to experiment, to create 70 new dishes a year, like you did last year?

It's beautiful to do these things. Of course, it's not always 70, some times it's only 40 dishes. But it's beautiful for the whole team, it serves as an inspiration for them, and it's good for the clientele. There are two approaches to a restaurant's menu: either you always have the same menu so customers come to you because they know exactly what they can get, or you keep innovating so people know there's always something different on offer.

That's something you talk about a lot – service. You're always saying a chef mustn't just satisfy his own ego, he has to make his guest happy – tell us more.

The first thing is to satisfy the customer. The clients is always the first line, and it is the client who makes the restaurant in the end. If he comes back, you are doing things right, but if you have a fancy restaurant and no clients, there's something wrong. It's a global process. The food must be perfect, it must live up to your expectations. And each dish must have its own anima – or soul.

That's very Carl Jung. How does the soul of a dish come through?

A dish must be crispy only if it is required that it be crispy; or spicy if that is what is needed. And it is brought to life by the right ingredients. If you use fresh scampi, for example, you don't need a lot of spices, but beef cheeks are quite strong in flavour, so they need strong seasoning. I believe that less is more, it's better to take away than to add. And by using the right ingredients you get the balance right.

Much of your early training was with German Michelin-starred chef Heinz Winkler. What was the most important thing you learned from him?

Equilibrium. In and out of the kitchen.

What's the most important thing you've learned in all your years in Rome?

To focus on the essence of everything, on the very basics.

I believe you're working on a new book. What's it about?

It should be out in spring. But there are no recipes in it, it's about my philosophy, about my way of thinking.

Which five people – past or present – would be at your ideal dinner table?

Leonardo da Vinci, Escoffier, Goethe, Verdi, and what's the other name.... Aristotle. That there are no women on the list is only a coincidence.
If you could only ask for one last meal, what would it be?

A nice pasta dish. Pasta Fazoli, which is a lovely dish with traditional Roman beans.


PROFILE: Heinz Beck Celebrity chef

Multi-award-winning Beck, 45, who was born in Germany, is spoken of in the same breath as the chefs Pierre Gagnaire and El Bulli's Ferran Adrià.

Born into a family of jewellers, as a young man Beck wanted to be an artist but his father wouldn't let him. When he said he wanted to be a chef, like his twin brother, their father insisted there would only be one chef in the family – so the flip of a coin decided it would be Heinz. He has been cooking since he was aged 16 and before heading to Rome to run La Pergola, he worked exclusively in Michelin-star restaurants, most notably with top chef Heinz Winkler.

Known for running a quiet kitchen, the chef describes his food as a "light cuisine of Mediterranean flavours" that yields big flavours and unusual textures such as clouds of foam, which he has been working with long before Adrià made them famous.
Follow Emirates 24|7 on Google News.