Jewellers pull out all stops to boost sales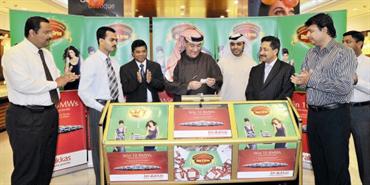 The gold and jewellery trade in the UAE is tackling downturn in sales by attracting customers with schemes and promotions.

The leading Indian jewellery chain Joy alukkas Group is offering 10 BMW Series 3 cars to customers buying gold or diamond jewellery worth Dh500 or more.

Sky Jewellery, another Indian company, is offering 10 kilograms of gold as an incentive to attract customers.

Other chains and merchants too have either similar ongoing schemes to boost gold sales or are planning to be part of the Dubai Shopping Festival gold sales scheme to boost jewellery sales this year.

Hoping that recession will not affect the Indian jewellery market in the UAE, many Indian jewellery chains are offering incentives and offers like free gold coins and scratch and win schemes.

Chairman Joy Alukkas said the BMW offer is part of the group's global campaign to boost jewellery sales across its 70 retail outlets in the GCC and India.

Traditionally focusing mainly on the Asian jewellery market, this year the Joy alukkas Group plans to open 12 showrooms across the UAE/GCC and India, including its maiden showroom in Saudi Arabia, a country with considerable number of Indian population.

Alukkas said: "We have been catering to our Dubai customers for 20 years. This mega promotion is our gesture of gratitude to all our customers for their loyalty towards the group. Even if there is talk of economic slowdown, the number of entries received in our outlets has been spectacular. It proves the popularity of our jewellery collections and people's willingness to spend."

Ibrahim Saleh, Co-ordinator General, Dubai Shopping Festival, said: "Jewellery is a key driver of the Dubai retail business and Joy alukkas is one of the largest jewellery retail chains in Dubai. This is the first of the raffle draws to be held for the Joy alukkas mega global promotion, wherein 10 BMWs are on offer for people to win. Such schemes have helped boost gold and jewellery sales in Dubai."

The Dubai-based global jewellery chain, with interests in jewellery retailing, manufacturing and export, has opened a 6,000 square foot gold souq in the Indian pavilion at the Global Village and a gold and diamond workshop, where craftsmen demonstrates the process of diamond cutting and gold jewellery making.

Tomy Joseph, General Manager, Joy alukkas Group, said the jewellery chain is offering 10 BMWs as incentive – three in the UAE (one each in Dubai, Abu Dhabi and Sharjah), one each in Bahrain, Kuwait, Qatar and Oman.

He said: "We have overcome the impact of the economic slowdown in our year-end sales through the BMW offer. It has boosted our sales by 20 per cent in the UAE alone.

"When the market situation is bad and gold prices are going up customers opt for jewellers offering maximum incentives and schemes. Jewellery sales may be down for other chains, but the special offer has boosted our overall business in all the outlets in the UAE."

He said the sales has also been boosted by its presence in major shopping malls like Lulu Centre, the hub of Asian shoppers.

"We will open 12 new branches in 2009, including our first branch in Saudi Arabia in the new Lulu Shopping Mall, which is coming up there this year. In Dubai, we will open new branches in the Dubai Mall, Oasis Mall and other locations," Joseph said.

Atlas Jewellery, another leading Indian jewellery chain, is offering 10 Alto cars.
Follow Emirates 24|7 on Google News.