Sale of soft drinks at higher rate 'illegal'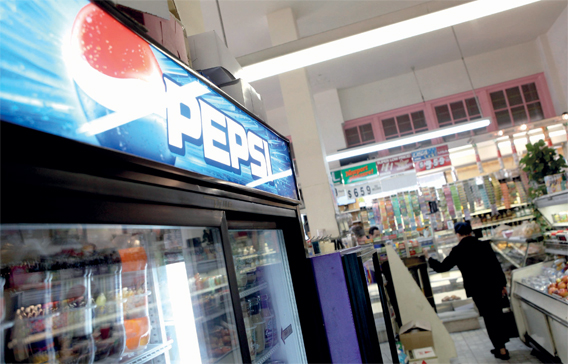 Several supermarkets, grocery stores and other outlets have illegally increased the cost of aerated drinks without obtaining government clearance.
Prevailing prices in stores today are 25 fils above the government's set rate of Dh1 per bottle despite no decision from the Ministry of Economy on a request from manufacturers to push up prices.
No manufacturer has officially announced an increase but a number of traders in Dubai, Sharjah and Ajman said they were selling Pepsi and Coca-Cola at Dh1.25.
Company sources said their sales teams were aware of the illegal increase, which was being introduced without their permission, and some stores have been fined up to Dh10,000 for selling soft drinks at inflated price.
A sales supervisor of a leading multinational beverage company in Dubai said: "We have not obtained any official communication from the company to increase the prices. Normally we have to inform traders and customers two weeks in advance and it is not likely that the price increase will be effective from March 1, 2010, the beginning of summer season in the region."
Preferring anonymity, he added that his company's sales team had reported several cases of groceries and traders selling brands at Dh1.25.
"They are doing this on their own risk. He said some shops are fined Dh10,000 for selling soft [aerated] drinks at Dh1.25 per bottle. Officially these beverages are meant to be sold at Dh1 per bottle, which offers a clean profit of Dh3 per carton. We charge Dh21.25 per carton and the trader gets a profit of Dh3.75 per carton. By increasing the prices they are getting more profit, but the company has not approved it."
A deputy general manager in the UAE Ministry of Economy said the Government has not yet approved the price increase plan and those who are selling these brands at inflated prices "can invite big fines". He said stores are supposed to sell Pepsi and Coca Cola at Dh1 per bottle. "If any trader is selling at more prices, they are doing it illegally," he added.
However, not all manufacturers are eager to raise prices. Masafi Juices said it had no plans to hike rates.
"We have no plans to increase juice prices because 90 per cent of our fruit juices are natural and we don't use much sugar in it. We respect our customers and cannot increase prices every time some raw material prices go up. We need the permission of the Ministry of Economy and currently we are not planning a price increase. Increase in sugar price do affect our bottom-line, but now we are not planning any hike," said Rami Benjamin, Business Development Manager and Brand Manager for Masafi. Since the launch of its juice products in the market, Masafi has increased prices just once, when the price for raw orange went up.
Aya Solh, Consumer Marketing Manager, Dubai Refreshment Company, said she is not aware of any price increase and said the decision lies with Pepsi Company. Pepsi officials in Dubai and Bahrain did not respond to Emirates Business queries about plans, if any, to increase its prices.
Aujan Industries, manufacturer of Rani brand of juices, is said to be expecting a price hike from March 1 but company sources said it is yet to get the green signal from the Ministry.
Recently, beverage manufacturers came under financial strain as sugar prices rose by almost 50 per cent. Experts suggest sugar accounts for 25 per cent of manufacturing cost and leading companies have already increased prices in Saudi Arabia, Bahrain, Qatar and other regional markets.
In the UAE, companies have been unable to up prices on strict instruction from the Ministry of Economy to keep prices in check. Unprecedented sugar prices pushed local companies to petition the Ministry for a price increase.
Keep up with the latest business news from the region with the Emirates Business 24|7 daily newsletter. To subscribe to the newsletter, please click here.
Follow Emirates 24|7 on Google News.