The magic of marketing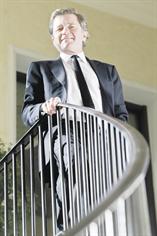 As the global downturn continues to strengthen its grip on world economies, the impact is plain to see across the sectors – from construction to the media, people the world over are losing their jobs.

But Tom Bernardin, the CEO and Chairman of international advertising firm Leo Burnett Worldwide and its marketing partner Arc Worldwide, believes companies that are still afloat must take steps to protect themselves to withstand the credit crunch.

Advertising budgets, as well as staff development, are often the first things to be cut when a company hits hard times, but Bernardin, 55, says they must continue to invest in order to draw new customers in.

"Some segments are reducing their spend and clients are looking to save money," says the American, who joined the company in April 2005. "There is a fine line in this environment and every marketer has to be prudent but it's important for brands to continue to keep their presence and companies that continue to advertise during a recession will do better as things start to recover."

Because Leo Burnett is a private company, it will not reveal revenue or profits, but data from Euromonitor International, a global market research firm, found that the UAE spent $14.7m (Dh53.9m), on advertising last year against $13.5m the year before. The United States, where Leo Burnett is based, spent $187.8 billion (Dh689.2bn) in 2008 – more than any other nation – up from $181.4bn in 2007.

The company is also optimistic about results for 2009 but is keeping its expectations open because of the current financial crisis. If the results don't match the highs of previous years in the region, it will continue a worldwide trend, according to the World Advertising Research Centre. "We are predicting a slowdown in advertising spend in most major markets this year," says Research Director Colin Macleod.

"We haven't published the report yet but expect the United Kingdom to reduce spending by three to five per cent. Some media, such as the internet, will do better than others but even then the growth rates of 20 to 25 per cent in recent years will come down."

Despite three decades in the industry, which started at ad agency McCann-Erickson, Bernardin admits the past six months have presented a number of challenges to Leo Burnett and him as a manager. But he finds this even more interesting because it gives staff the opportunity to shine as they look for more innovative ways to help clients. Attracting new talent has been difficult at times, but Bernardin says they are overcoming it by finding staff in places they normally wouldn't look.

"We are looking to other walks of life for diversity because that creativity can transform human behaviour so we go out of our way to find people from diverse backgrounds," he says. "We are going through incredibly exciting times because the world is changing, we will emerge confident from this and more clients will come to us because of our creative solutions, which is the key to growth," adds Bernardin, who followed his father, who was a creative director, into advertising 33 years ago. He says what enticed him then still keeps him drawn to the industry now.

"It's the power to transform human behaviours," explains the man who once won the coveted Grand Prix Golden Lion in Cannes for his team's Jeep campaign. His previous agency, Bozell, was also named third most creative agency in the world at the 2002 awards ceremony.

With one of "the big three" – General Motors – among their clients, Leo Burnett certainly has its work cut out to beat the crunch, but Bernardin, who hails from the car manufacturer's home town of Detroit, is confident it can pull through the crisis, which saw the US Government pledge $17.4 billion (Dh63.9bn) last month to prevent GM, Ford and Chrysler from collapsing.

"GM is challenging but it is a close partner of ours so even though they might be in difficult times now, we are in it together and will do what we can to support them and get through it," he says.

Other top clients include Kellogg's and McDonald's – names so synonymous with their markets that consumers no longer talk about soda, cola or burgers but use the brand name instead. Given this, and their market domination, do corporates of this nature even need to continue to advertise?

"Definitely because these companies need to keep their message out. People buy into a brand for what it represents. McDonald's is about simple enjoyment and the business continues to grow because it is so focussed," he says.

Locally, the company is doing well and enjoyed double-digit growth last year, with Emirates one of its biggest clients (Leo Burnett was responsible for the airline's Brazil campaign). The United States, Latin America and China also produced similar results. Although the Middle East is experiencing tough times, it is not as severe as other parts of the world, which Bernardin hopes to capitalise on in time.

"Companies are more resilient in this market than others but some softness is apparent. Lower occupancy in hotels is very noticeable as is the slowdown in building. We know there is caution so it is not out of step with the rest of the world," says the father-of-three, who is preparing to be a grandfather for the second time.

"The Middle East has a lot of opportunities and we will continue to improve our work. We have had some very good results and we look to do better creatively in the future."


Who is Leo Burnett?

Leo Burnett, named after its founder, is one of the world's premier advertising agencies.

Although the man himself died in 1971 his legacy lives on with offices around the world. His work is seen every day as he created Tony the Tiger – the mascot of Kellogg's Frosties – and the 7UP red "spot". He was also named one of the most influential people of the 20th century by Time magazine.

Today, Leo Burnett Worldwide is still headquartered in Chicago, United States, where it was founded in 1935, but has 97 offices in 84 countries in which it employs 7,200 people, with 200 in Dubai. The US is its biggest market with the United Kingdom second and China and Latin America also reporting strong turnovers in 2008.

It has five offices in the Middle East and North Africa; Dubai, Kuwait City, Beirut, Riyadh, Jeddah and Cairo.

Top brands include Coca-Cola, McDonald's, Visa and Samsung, while in the Middle East they look after du and Emirates, among others.

It's biggest rivals include Bentsu, which is the largest agency in the world, JWT, BBDO and TBWA.
Follow Emirates 24|7 on Google News.