UAE warms up to buying gourmet food on the net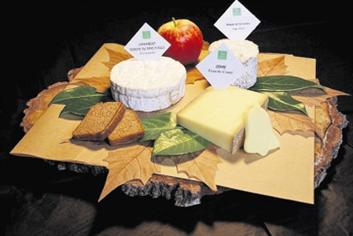 In an age when the recession is still affecting spending, one mail order food company has seen the UAE's hunger for oysters mark a vast improvement in fortune.

Paris-based gourmet food firm Ze Blue Box has thrived since its launch last summer as local residents snap up its menu of exclusive seafood, cheese and chocolates.

Latest figures show the online retailer has grown more than 2,000 per cent in the past four months thanks to an appetite for the finer things in life.

"It was hard before the summer because we were hit by the recession but we registered a lot of new customers in the run up to Christmas," says Managing Director Hugues de Kerdrel.

The company is no stran-ger to trading in Dubai as it has been a B2B retailer for 10 years, supplying many of the city's five-star hotels. The online arm accounts for 10 per cent of Ze Blue Box World's overall business.

"We were the first company to sell handmade cheeses here and started with the Burj Al Arab. We were the first to import fine foods," says de Kerdrel.

From its first foray into cheese, the company has grown to import seafood, chocolates and condiments to customers in the Emirates but import restrictions mean any cheeses containing alcohol, or indeed, its impressive collection of fine wines, are unavailable locally.

These days, the company exports to more than 20 countries from Europe to China but it saw expansion to Dubai as the real test.

"We came to Dubai not as Blue Box but everybody loved our products and asked if we could deliver to their homes so we started the internet business. The purpose is to deliver fine food to individuals, which we now do alongside the corporate arm," de Kerdrel says.

"We don't have competition in the UAE on the internet but we do elsewhere. We market tested the website here because it's a tough one due to the multi-cultural population so we thought if we can succeed here then we can do it anywhere."

And from its first foray last summer, the company has gone from strength to strength. On average, people order about once a month as it is not an everyday food store but one to which people turn for special occasions. With oysters starting at Dh49.90 for 24, Dh149 for a cheese platter and Dh59 for a box of chocolates, the products do not come cheap but people are paying for exclusivity. "Every thing is exclusive to us so you won't find them anywhere else in Dubai," says de Kerdrel.

And having already been importing to the UAE for a decade, the logistical arrangements have been easy; they simply add customer orders to the twice weekly scheduled flights. People can then choose to pay for home delivery or pick them up free of charge at Le Méridien hotel near Dubai International Airport. "Logistics has been the easiest part of the business because you can get anywhere in 24 hours. We fly here twice a week from Paris so we have orders for oysters, which are a very big seller. We get them into Paris fresh one day from Brittany and the next they're in Dubai so they are often fresher than if people were to buy them from a local retailer," says De Kerdrel.

The majority of produce comes from France; organic vegetables are grown in the north of the country, and butter is made in Normandy, for example, but other things are sourced from outside, such as olive oil and chocolates, which are both produced in Spain. A number of customers have requested the firm to supply foie gras, says de Kerdrel, but they are yet to find a suitable producer.

But with exclusive deals with all suppliers, do customers end up paying more?

"Oysters are cheaper than in the supermarket because of the volume we buy them in and the organic vegetables are not much more expensive," says de Kerdrel. "We don't have the same margins as shops so that helps to keep costs, and prices, down."

But is a shop the ultimate goal for Ze Blue Box?

"We don't have any plans to do that but we are trying to widen our customer base and provide them with the service so they keep coming back. Repeat orders are very high and above our forecasts and that's the most positive sign for the business."

Instead, the company has its sights set on expansion into Abu Dhabi, which de Kerdrel predicts will be "very big in the next two to three years". The firm hopes to capture markets that are not normally known for their love of French food. "We are trying to reach the Indian community and introduce them to cheese. We don't really sell to French customers; our prime target is the exact opposite," he says.
Keep up with the latest business news from the region with the Emirates Business 24|7 daily newsletter. To subscribe to the newsletter, please click here.
Follow Emirates 24|7 on Google News.