'We are in a credit crunch, not a creative crunch'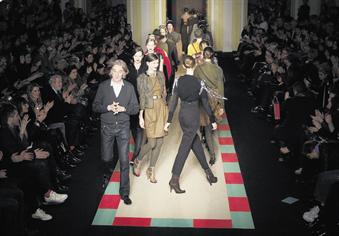 Sticking to what you do well is the best way to make it through a recession, say two British designers who have steered their businesses through previous economic storms and survived.

Betty Jackson, who launched her first collection in the middle of a recession in 1981, and Paul Smith who opened his first London shop in 1979 as a downturn took hold, are now two of Britain's most well-established designers.

"In times like this, you have to focus on what you do well and do it better and really try and not be too much affected by it," says Jackson.

The designer, says she was able to weather Britain's early 80s recession because 75 per cent of her business was abroad, including in the United States.

"Of course you have to respond to it, but you also have to concentrate on what you do and actually deliver what you do better," she says.

Jackson says women are opting more for accessories as a way to keep buying brands they love at a time when money is tight. She also expects 2009 will be difficult, particularly for those designers without solid finances who will struggle to get credit. Still, she remains positive about the outlook for the fashion industry. "We're in a credit crunch not a creative crunch, so I think in fact what everybody's going to do is work harder and that will be quite exciting," she says. For London Fashion Week, which ran from February 20-24, some designers adapted to the global downturn by opting for presentations instead of catwalk shows, which can cost tens of thousands of pounds.

Design duo Aminaka Wilmont said their decision was in response to the credit crunch, though it was not a cost-cutting measure.

"We want to create an intimate and personal connection with our customers and clients, a return to a couturier style," they said.

Smith, who sells his wares in 74 countries, says sticking to classics rather than trying to be attention grabbing was key to retaining sales.

"It's very important to get the balance right between the commerciality of a collection of clothes and the clothes that are going to look good in magazines and newspapers," he says.

The designer, who says he was also focusing on making more couture-like pieces, says sales in his retail stores rose one percent in January.

"If you haven't got so much money to spend, then buying things that are slightly more timeless is more important," he says.

Whether they opted for or against a catwalk show, Smith says designers were ill advised to lower their prices in response to customers' waning disposable income.

"People who suddenly think you should go lower in price or be more commercial, in my opinion that's the wrong way," he says.

Smith's company is privately owned and has never borrowed money. "Don't really compromise, don't really react to much in terms of creativity or price to the recession," he says. "Stick to your guns."
Follow Emirates 24|7 on Google News.