Acer moves into lucrative market for smartphones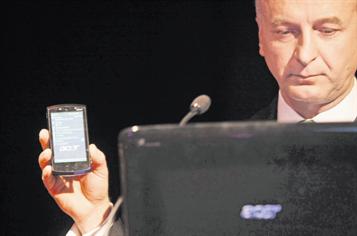 Taiwan-based computer manufacturer Acer has announced a move into the mobile phone market, unveiling its first range of high-end handsets at an industry event in Barcelona.

The firm, best known for its laptops, unveiled eight smartphones that have internet and powerful processing and memory capabilities as well as core phone functionality. "The smartphone market is a natural direction of our long-term mobile strategy," said Chief Executive Gianfranco Lanci during a press conference at Mobile World Congress.

The first four handsets are expected to go on sale worldwide in March or April, said Marketing Manager Sylvia Pan.

The touch-screen phones, demonstrated here mostly in black with a design that resembles the top-selling Apple iPhone, will connect to the internet via a Wi-Fi connection and run with the Windows mobile operating system.

The move illustrates two trends in the mobile phone industry: the growing attractiveness of the high-end market for smartphones and the arrival of traditional laptop computer makers in this segment.

Laptop maker Toshiba already manufactures handsets and rumours abound that US rival Dell is preparing to launch its own range.

Sales of smartphones, the industry term for high-end powerful handsets, are forecast to grow by 15 per cent year-on-year for the next five years, predicted head of phones at Acer, Aymar de Lencquesaing.

Lanci underlined that "for a large part of the world population the first opportunity to connect to the Internet will be via mobile computing, either through smartphones or netbooks".

The company had indicated its desire to enter the mobile phone market last year when it acquired Taiwanese handset manufacturer E-Ten.

Analyst Nick Lane of mobile phone consultancy Direct2 Mobile said that high-end smartphones were "still only a tiny percentage of the market" but that this would change as prices come down because of competition. "The high-end device of today will be the midrange device tomorrow," he said.

The first Acer models will be called DX900, X960, M900 and F900.
Follow Emirates 24|7 on Google News.