Advanced solutions boost growth of Microsoft Gulf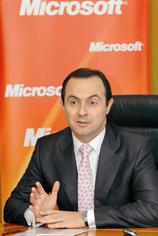 Microsoft Gulf is growing at 35 to 40 per cent every year and this is not only because of its traditional business sales of Windows Office but also server products, CRM and other software solutions.

Charbel Fakhoury General Manager, Microsoft Gulf , said: "Since the setting up of Microsoft Gulf office in 1991, it has expanded to become a strategic player in worldwide markets and this growth is not because of the immense oil resources in the region. The Gulf is generally called an emerging market but we at Microsoft consider it to be somewhere between emerging and a developed market. This is because the markets here cannot be compared to Brazil or Egypt," said

He attributes this growth to the advanced solutions adopted in the region. "The penetration of internet, high demand for services and solutions has led the market to move on from mere hardware sales. Today it is looking at services and applications which are signs of a mature market. Also, the affluency in the region was another reason for it to become a strong player in an international scenario. Growth in projects in hospitality and real estate are good examples," said Fakhoury.

Microsoft globally measures its regional offices on the basis of a 30-point score card, and according to Fakhoury, the Gulf had the highest score. He said: "This rating is not based on revenue alone but customer satisfaction, market share, employee satisfaction and the impact made on society."

According to Fakhoury, the contributors of the growth of Microsoft Gulf (which does not include Saudi Arabia) include, "our expanded portfolio of products; growing markets such as the UAE, Qatar, Kuwait, Oman, Bahrain; and channel partners. Our indirect model of business has enabled us to grow along with our partners. Microsoft never competes with our partners but creates opportunities and, therefore, becomes a productive model to grow with others. In the short term, along with our partners, we are looking at getting maximum returns for our customers."

In today's troubled financial times, customers want an integrated solution at an affordable price and with Microsoft's huge install base of customers and large portfolio of products it is easy to integrate, implement and help them adopt solutions, said Fakhoury.

As the software conglomerate witnesses growth from other product areas, search part of its business has also gained relevance especially in the enterprise space. Competitors setting up regional offices in Dubai does not affect Fakhoury.

"We are not a market leader in consumer search, competitors such as Google are strong in search advertising. In enterprise search we have a strong position. Organisations want to have it in a secure manner covering corporate and group policies and also search getting into applications. Search should help organisations make decisions as its an application rather than a key word search," he said

With the recent launch of Azure, Microsoft has also realised the potential of internet services, which can be consumed both on-premises or on the internet. It has not reached the region but Fakhoury says its just about getting the market and its partners ready for such a model. "It will come here and its about getting the business channel and partners ready. We have to make sure they are trained, certified and all the services are available on the web. This model cannot be compared to the popular SaS (software as a service) model."

Microsoft's software and services target customers who don't want to subscribe to software and get it hosted somewhere else. This may lead to confidentiality, legal, security or broadband issues. Therefore, Microsoft offers software on the premise and on the cloud or on both. "This changes business environment as applications can still be on the premise but Microsoft exchange can be hosted somewhere else. Microsoft business partners will be involved in such online models as a lot of them are already registering and becoming part of that model. Online models are gaining success mainly because they trust internet more."
Follow Emirates 24|7 on Google News.