Advanced technology to help Metro reduce costs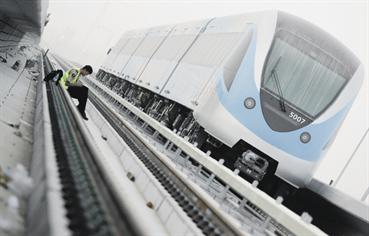 The Dh15.5 billion Dubai Metro will be able to keep its operating costs under control through the use of advanced technology, says a senior official.

"Operating cost savings will be a direct result of the use of many advanced technologies," said Adnan Al Hammadi, Director of Construction, Rail Projects, Roads and Transport Authority.

"The costs incurred through the deployment of resources for operations and maintenance will be limited. For instance, no drivers will be required as it's a driverless system. The train washing facilities are also fully automated. The maintenance vehicles are equipped with automatic train control (ATC) system."

ATC is a trackside system that works in conjunction with equipment installed on locomotives to automatically apply airbrakes to stop or slow a train when required.

A maintenance management system (MMS) will schedule servicing work and enable preventive maintenance. Platform screen doors (PSD) will provide climate and environmental control and save energy consumption costs. And there will be cost saving through energy optimisation from the use of rolling stock regenerative braking.

An advanced signalling system will control the world's largest driverless network. "The signalling system is a proven product called SelTrac from Thales Railway Signalling Systems," said Al Hammadi.

"The system has been successfully implemented in cities around the world to serve metros and automatic people movers.

"Special functions have been designed to meet Dubai's needs and environmental conditions. There is a considerable amount of automation in this system."

The Metro is to open in September this year. The Green and Red Lines will extend 75km and include 47 stations, including 10 underground ones.

The RTA is working with a number of companies, including the main system integrator, Japan-based Mitsubishi Heavy Industries.

"The trend from the beginning was towards adopting and acquiring the latest technology in the market for all the subsystems. Mitsubishi has subcontracted different subsystems to different internationally known vendors including Thales, Kinki Sharyo, Westinghouse and Meidensha.

"Those in turn have their own subcontractors. Vendors and integrators from all over the world are involved in the project."

Safety is of course the top priority and steps have been taken to ensure the smooth separation of trains, while interlocking controls and train speed enforcement will be implemented through the use of computer systems on board the trains and at wayside control locations.

Safety devices will include a system that enables passengers to open the train doors in an emergency, buttons to be used if passengers require the train to stop, and fire and smoke detectors. Emergency stop buttons on the platforms will enable passengers to intervene in an emergency.
Follow Emirates 24|7 on Google News.