Amazon's bigger e-reader Kindle DX goes international for $489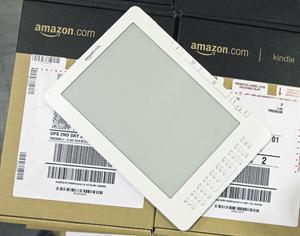 Amazon.com yesterday made its premier Kindle DX model electronic book reader available in more than 100 countries.

Kindle DX devices that had been available only in the United States sport screens 2.5 times bigger than those on an international Kindle model released globally by Amazon late last year.

The larger screen is ideal for highly-formatted reading content such as magazines, newspapers, textbooks, and PDF documents, according to Ian Freed, Vice-President of Kindle at Amazon.

"Now, DX customers can take all of their books with them when they travel and all their loose printed documents," Freed said.

"All of your newspapers can follow you from country to country, delivered fresh each morning, with no additional fee."

Kindle DX tablets remained priced at $489 and Amazon began taking international orders yesterday.

Kindle DX purchases are to begin shipping on January 19. Amazon has about 300,000 electronic books that can be purchased internationally for reading on Kindle devices, said Freed.

Kindle DX electronic reading tablets are synched to wireless mobile telephone networks in more than 100 countries so users can download books, magazines, or other digital reading material regardless of location. "We tried to make it as simple as possible," Freed said.

Kindle has become a top Amazon export to a number of countries including Canada, France and Germany.

Since the first Kindle model launched in November 2007, the e-reader has earned the title of "most gifted product" at the 14-year-old online shop.

Kindle devices are reportedly catching on in the business world, with documents ranging from legal briefs to office paperwork being taken for reading on the road, according to Amazon.

"We know a number of actors and actresses that actually use Kindle DX to review scripts," said Freed. "A number of schools are using Kindle DX for students to read electronic textbooks."

Most electronic books for Kindles are in English, but digital versions of newspapers and magazines are available in local languages, according to Amazon.

"Documents look so good on the big Kindle DX display that you'll find yourself changing ink toner cartridges less often and printing fewer documents.

"We're excited to be able to offer Kindle DX to customers worldwide so they can carry all of their personal documents along with their whole library in one package," he said.
Keep up with the latest business news from the region with the Emirates Business 24|7 daily newsletter. To subscribe to the newsletter, please click here.
Follow Emirates 24|7 on Google News.