Apple's iPhone to shake up South Korean phone market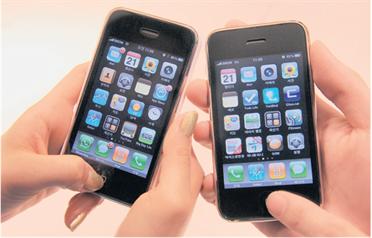 Apple's iPhone is sounding a wake-up call in South Korea's once-closed smartphone market as local manufacturers and service carriers rush to compete with the iconic US model.
The iPhone has won almost a quarter of a million users since it finally launched in South Korea last November, and has also expanded the potentially huge overall market for smartphones.
Press articles and internet postings in the strongly nationalist nation had cast doubt on the iPhone as Apple began a promotional blitz last year.
But like elsewhere, South Korean converts are zealous in their ardour.
"The iPhone's cool. It has all these applications that other smartphones do not offer. I think the iPhone symbolises simplicity and complexity at the same time," said Lee Su-Jin, 26.
Apple's "apps" are helping the iPhone's growing popularity as South Koreans turn to on-the-go features such as Google maps, listings for restaurants, news updates and weather forecasts.
South Korea's mobile phone market is one of the world's most vibrant, with 45 million users in a population of almost 49 million.
But until November smartphones only accounted for about two to three per cent of the total compared to almost 30 per cent in Japan, according to analyst Kim Dong-Joon of Eugene Securities.
Two local giants, Samsung Electronics and LG Electronics, account for about 90 per cent of the total mobile phone market.
Authorities began opening up last April, dropping a requirement for phones to be embedded with locally developed software.
In September 2009 they scrapped another rule, formally clearing the way for the iPhone to launch.
By the end of this year smartphones will take 10 per cent of the overall market, analysts estimate.
"The iPhone brought changes to the Korean mobile phone market, such as awakening the public's attention to smartphones and triggering competition," said Kim.
He said South Korea's smartphone market was previously in the grip of Samsung and LG.
"And since the market was closed, firms did not bother to try something new and revolutionary, keeping their customers blindfolded."
Follow Emirates 24|7 on Google News.