Brother sees growth slowing to 10%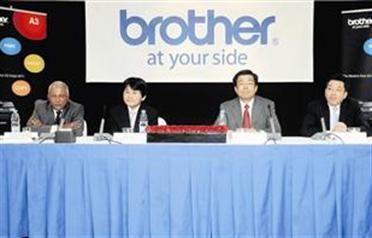 The $5 billion (Dh18.36bn) Brother Group is planning to introduce its exclusive patented products to stave off tough competition from HP, Canon, Dell, IBM and Epson in the printers market.

With 14 per cent market share, Brother Group is the third largest manufacturer of printing, communication and digital imaging products for homes, Sohos (small office home office) and enterprises. The firm has initiated patents-focused work on developing several niche technology-enabled printer products.

"We are looking at patented products in the near future. All products will have exclusive Brother patents. The patented products will be free from competition for first five years and this period will enable us to not only consolidate our market position, but enhance sales volume in the global market," Ranjit S Gurkar, GM (printing and solutions division), Brother International Gulf (BIG), a subsidiary of Brother Group, said.

Despite the deteriorating market conditions, BIG is optimistic about the sales performance with its projections of 100 per cent growth by 2012. The company is banking on its laser multifunction centre (MFC) segment for boosting sales in the UAE

"We are expecting a 10 per cent growth rate this year as against the 25 per cent growth during January-September 2008. Global economic crisis is impacting all the regions. However we have not laid off any employee so far. We have achieved 195 per cent growth rate in colour MFC segment. Our new sales office in South Africa will be operational in April," Shinji Tada, MD of BIG, said.

"We are expanding our business in Asia-Pacific region, while continuing to focus on the Middle East and Africa. We have decided to increase our investments in Turkey, Saudi Arabia and Iran," said Tetsco Watanabe, President, Brother International Corporation.

While elaborating on how several key factors across the world impacting the company's sales performance, Gurkar said: "Credit insurance was withdrawn in many places. Hence, distributors could not sell as in the previous year. Moreover there was currency depreciation in South Africa, Kenya, Tanzania and Nigeria. This has made the prices of our products costlier by 25 per cent in the local market. As our products become expensive in these markets, sales were affected."

Brother has recorded a market share of 8.8 per cent colour laser MFC segment. During the period, the leading manufacturer has successfully leveraged the inkjet MFC market's 48 per cent growth, by securing a growth of 74 per cent and a five per cent market share. Its growth in the mono and colour laser single function printers has been above 100 per cent over the same period last year.

"Brother's UAE operations for first quarter to third quarter of last year, which was marked by a 26 per cent growth in mono laser MFC category and an increase in market share in the same category to reach 14 per cent, amidst a reported 37 per cent market growth for mono laser MFCs in the country. In the Colour Laser MFC segment, which in itself has grown by 30 per cent and where the company has seen its biggest growth rate," Terry Koike, President, Brother Industries Ltd, said.
Follow Emirates 24|7 on Google News.