CIOs brace for year of limited budgets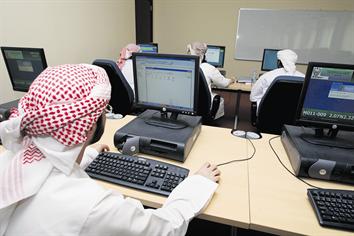 "Do more with less" is the mantra for UAE-based chief information officers (CIO) and IT managers in 2010, as they face a year without any increase in IT budgets.

CIOs in the UAE and the region, except for countries such as Saudi Arabia, said though spending will take place, it will be in a limited and focused manner.

"Nice to have" is out of the door and "must have" is in the limelight this year. CIOs or CTOs (chief technology officers) are no more just implementing technology and solutions but are helping take business decisions. Over the past year, they have been involved in boardroom meetings, and IT decision and investments are taken keeping in mind the interests of the company's stakeholders.

Emirates Business spoke to Younis Mohammad Othman, IT Director at Dubai Customs, Faizal Eledath, Head of IT at Dubai Bank, Gadde V Rao, IT Manager at Qatar's United Development Company, and Dr Sadiq Sait Mohammed, Director (IT) at Saudi Arabia's King Fahd University of Petroleum and Minerals.


CIOs based in the UAE have not had any increase in IT budgets. Are you facing the same scenario? If there is an increase at all in the budget, how much do you expect it to be?

Mohammad Othman: According to government directives, its about cutting costs and increasing profits for the organisation. Therefore, there will neither be any increase in the budget nor a cut back. In 2008, the budgets had increased to some level but this year there will be access to limited resources.

Eledath: Year-on-year budgets are in line with the IT roadmap we have set for ourselves as per our IT strategy. Over the past three years Dubai Bank has made major investments in implementation of core operational systems, infrastructure and processes. In 2010, as planned, much of our efforts will go in leveraging these investments to support our business strategy.

Rao: Budgets are not going to increase in 2010 and, therefore, reflect the same figures as 2009. We have plans to work on some specific projects, which can be implemented according to our company directives. This has to be done by spending wisely without compromising on quality and services. The crisis started in 2008 but in spite of that we did not face major issues in 2009. Even in 2010, it's not a complete freeze on the budget but the mantra is to watch and spend. Every dollar must be of value according to company and customer requirements.

Sait Mohammed: As per IDC growth figures, Saudi Arabia is one country that still sees positive growth. Even for us, there will be increases in budgets this year, which will be more than last year. For example, the university budget was Dh900 million last year, which for the first time will cross Dh1 billion in 2010. This could also be because of an increase in IT salaries and depending on IT projects. But on a general level, spending is not a concern. There has to be an increase in spending in IT security, IPS and NAC (network access control). However, the rest of the region is cautious and the positive fact is that technologies such as SaaS [software as a service] and cloud computing will act like a catalyst in this scenario.

How are you going to manage more with the same resources and the same budget?

Mohammad Othman: Technologies such as virtualisation will require expertise and additional resources. This will become a challenge as I see risk in working on such technologies since budgets are limited. Therefore, we will selectively work on technology areas and carefully conduct pilot projects with partners.

Finding resources such as talent and increasing awareness within the organisation on such areas will be a challenge. Research organisations and technology companies are conducting seminars and sessions on virtualisation and cloud computing. This is essential to get technical people trained and implemented in real time.

Eledath: The bank will leverage on technology already implemented to increase efficiency, enhance customer experience and offer innovative products and services. Within IT, we heavily utilise industry best practices, which optimise cost and enhance ROI; we also have a very engaged and talented workforce. This is not a major concern for us.

Rao: Leveraging our previous investments based on customer focus will be a priority. IT areas will bring efficiency to the company by reducing operating costs. As a CIO, it's become critical to become a revenue generator by spending wisely. The top management has given a measure of freedom and, therefore, I will look into areas like BI [business intelligence] to create dashboards. This can be used by the executive management to make critical decisions based on the data collected.

This year will also be a tough one for CIOs, as we have to change from just implementing an IT or ERP system to wearing a business hat. IT goals will have to be set according to business' objectives. This is what is missing in today's market scenario and therefore this alignment has to take place. IT will have to be aligned in the direction of business. It's time CIOs sit with stakeholders and think differently.

Sait Mohammed: The university relies completely on technology. All our systems are automated and we have a WiFi campus. All faculty and students are given notebooks or a desktop with fibre optic backbone infrastructure. Oracle e-business suite is used along with BI tools. Technology is not limited to e-mail and internet. For example, we use Web CT to learn management and books are also issued online.

In such a scenario it is not possible to reduce Opex and in terms of Capex, there is a disaster recovery centre being set up with our data centre. Therefore, there will be a big focus on virtualisation, and investment on security is very relevant for us due to the immense amount of data in the network.

What will be top priorities in terms of IT spending? What are the top technology focus areas?

Mohammad Othman: The focus will be on infrastructure and applications. Utilising applications to the maximum with less focus on Capex will be priority. Adhoc purchases of servers cannot be done. Therefore, building on new technologies after some analyses will make sense. However, the focus will remain on low-cost, robust and stable technologies for the organisation. Again, to survive, business objectives have to be based on demand enabling growth.

The challenge is a limitation of space and doing the same work without expanding data centres. Even laying off resources does not make sense as many of them handle important pieces of technology. Therefore, roles have to be re-defined and distributed across the organisation. In such a scenario, outsourcing is also an option.

Eledath: This year will focus on implementation of risk management systems. This will be based on the path of end-to-end process automation and leveraging investments made in previous years to support business plans and goals. The overall implementation of infrastructure was completed, and therefore, now it is the time for leveraging those investments to reduce Capex.

Rao: There is a lot of talk about new technologies, but I will wait and watch before taking a decision. Technologies like virtualisation and cloud computing have been spoken about to a large extent. There will be requirements for experts and I see a lack of them in the region.

Sait Mohammed: Every year there is an increase of between three and six per cent in IT budgets. Uptime is important for our university and therefore our systems should never go down. Investments will help drive this and therefore IT investments in upgrading e-business suites will continue.


Virtualisation

Virtualisation and cloud computing are no more just jargon in the UAE but are being seriously discussed and included in IT strategies.

"Spend is based on business priorities and CIOs are making sure this is tightly integrated. IT and business decisions are being taken hand in hand. They want to translate the promise of the private cloud as it provides agility and delivers business benefits. The bigger roadmap will have investments in hardware, software, services and a virtualised cloud. Conversations in the boardroom are taking place on this level," said Sanjay Mirchandani, Senior Vice-President and CIO at EMC Corporation.

The roadmap is being set for private clouds, software services and a SaaS model. The delivery mechanism does not matter but business agility is relevant. "CIOs in the Middle East were not having discussions on these levels earlier but 12 months ago all this changed. It's no more about hardware and software acquisition but solutions," said Mohammed Amin, General Manager for Middle East, Turkey and African continents, EMC.
Keep up with the latest business news from the region with the Emirates Business 24|7 daily newsletter. To subscribe to the newsletter, please click here.
Follow Emirates 24|7 on Google News.