Crisis may drive small call centres in UAE to go bust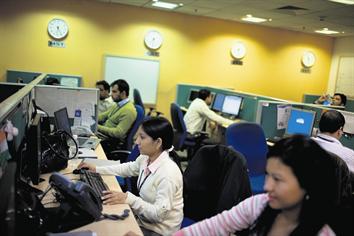 Call centres in the UAE – particularly ones with seating capacities of less than 60 – are facing a cash crisis as most of their customers have either stopped making payments or cut back billings.

And activities at some small- and medium-sized centres are likely to come to a standstill soon if the problem continues, say industry experts.

"Payments are authorised but not paid," Bernd Steinhardt, Product Manager at Mena Business Services (MBS), told Emirates Business. "It is mostly real estate companies that are not paying the bills. We can't complain about this because the financial situation is bad everywhere. Projects in the pipeline are enabling to stay afloat."

Official figures for the number of call centre players in the UAE and their revenues are not available. But Insights, an independent organisation that works with companies in the industry across the region, estimates there are 300 centres in the country – 75 per cent of which are classified as small.

"Survival in a turbulent period depends on what kind of role a call centre is playing," said Dominick Keenaghan, President of Insights. "Customer services, telemarketing, banking and property sectors are severely affected but we are seeing a growing demand from telecom, healthcare and government organisations.

"We are trying to educate call centres about the best available technology applications. As a short-term measure, centres are considering cutting costs to protect their customer base. I can't see any recovery this year and can't predict the future direction of the market."

Faizan Siddiqui, Manager of Pakistan's ZRG, which supplies technology to call centres in the GCC, said: "Small and large centres are facing problems but the sustainability rate of larger ones is greater than smaller ones.

"Companies with their own call centres are focusing on growth models. Outsourcing call centres are seeing a decline in their operations as their customers are cutting costs. We see more companies preferring to invest in technology."

Marcus Junthe, Head of Product Management and Support at technology supplier Aastra, said: "It's a tough time for call centres, particularly smaller ones which are facing a lot of challenges. Big centres have advantages of scalability and can diversify to sustain their businesses. It's scalability that matters a lot in the present conditions."

Steinhardt said: "We are focusing on government and telecom projects, which can weather the crisis. We are trying to utilise our resources as efficiently as possible and cut costs. The higher the number of projects, the lower the costs. Optimising technical departments and in-house development are our top priorities. Most companies are cutting down on marketing and other customer services costs so call centres are losing business."

The financial crisis has changed the business dynamics of the call centre sector as companies seek to reduce staffing levels and rely more on technology.

Matthew Storm, Director of technology and training provider QPC, said: "Customers want to slash headcount. They are focusing on self-service, e-commerce and automation to improve their business performance. We focus on helping customers decide what they should do on the internet, by phone and one-on-one in person. We are getting a good response from the telecom and finance sectors.

"Staffing and scheduling are major problems for small call centres, and shift adjustment is also a challenge. We have 75 customers in the region and 70 per cent of them have a capacity of fewer than 100 seats. Small centres are struggling to survive. Small companies should seek technology solutions – instead
of hiring more people they can go for new technology applications."

But Rajesh Krishnan, Regional Director of Sharjah-based Servion, was more upbeat, as were other technology solutions providers. "The call centre business is improving even in the crisis because of growing demand."

"Most organisations find it cheaper to use the services of call centres to enhance their business operations through calls and online business applications. They are looking at automation. Many companies are approaching us for customised technology applications to improve their business performance. Of course the banking sector is under pressure, but they are not out of the business.

"They are cutting down on costs rather than setting up new branches; they are trying to reach out to customers via online and phone banking. Telecom companies are focusing on retail outlets and technology solutions to address customer problems.

"We are not expanding this year but are focusing on building up more consulting products and reusable models for our customers," said Krishnan.

Magnus Geverts, Director of Sweden's Teleopti, said: "Forecasting, scheduling and reporting applications cut down costs for call centres by 20 to 30 per cent. We have 30 call centre customers in the region and 500 globally. Applications for optimising telecom expenses are in great demand as large companies are planning to cut telecom costs."

And Venkat Raghavan, General Manager of Al Futtaim Technologies, said: "We don't see any dip in our revenues as we have major clients such as RAK Bank and Emirates airline."

However, some call centre companies have put their expansion plans on the backburner.

Suraj Menon, General Manager of call centre firm Plantronics, said: "The real estate and banking sectors are affected while the hospitality and telecom markets are okay, considering the present market conditions. "We had planned to set up a call centre at Jumeirah but decided to put it on hold. Small centres account for 25 to 30 per cent of our total call centre business. There is no growth at small centres as jobs are being slashed by corporate companies."

Neville Perry, technology company Avaya's Consulting System Engineer for Mena and Turkey, said: "When there is an economic downturn, business activities tend to slow down and companies look to reduce costs by reducing human resources and allied expenses.

"While people are the largest and most expensive resource in any organisation, they are the most important. But with fewer employees, providing customer service during an economic downturn can be a challenge. Customers expect a high-level of service, and more so in difficult times. Maintaining intelligent customer services in an economic downturn holds the key, which means making the most of existing applications and exploring newer technology solutions."

Some experts estimate that key human resources including service representatives and supervisors account for up to 75 per cent of a centre's expenses.

Perry said: "With call centre managers now seeking quality solutions with zero downtime and fewer agents to run the show, Avaya is responding with tools to maintain the same level of performance even with reduced resources.

"High-quality customer service is more important than ever for businesses in these challenging times."

However, despite the general gloomy trend some call centre operators have not abandoned their expansion plans entirely. CIS Director (Sales and Marketing) Sajjad Hamid said: "We are anticipating 40 per cent growth in 2009 as against the 100 per cent in 2008."
Follow Emirates 24|7 on Google News.