Cyberspeak in layman's terms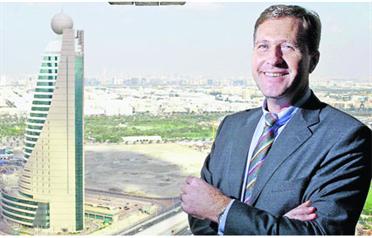 This is because even though the UAE is still a growing country it is investing more each year in the information technology (IT) and communications sector.
Olivier Campenon, BT President, Europe, Middle East and Africa, in an interview to Emirates Business, said: "The IT and telecommunications landscape in the Middle East has changed at least as much as the skyline of Dubai. And this not just in terms of the number of vendors, IT providers and telecom operators, but also in the way the industry now functions.
"One of the most fantastic things to observe is the sheer scope and breadth of investment into information and communication technology [ICT] infrastructure, for example. The investment muscle of countries across the Middle East was strengthened by the high price of oil, but a lot of that investment went precisely into infrastructure upgrade. And this is encouraging as ICT infrastructure directly underpins development in other areas and the overall development of knowledge-based societies and businesses.
"BT has been operating in the Middle East since 1985, so from our point of view we have had long-term visibility of the change, some of which started before the boom that we have seen over the past couple of years. And the pace has been breathtaking.
"So with IT becoming such an integral part of the business culture in the UAE just like everywhere else in the world you need to be up to speed with the latest in the IT world, be it hardware, software, security or just IT jargon. And if you are one of those executives who feel lost when the IT boys in your office start talking, then you need to bring yourself up to speed with the latest in cyberspeak.
Sharad Agarwal, Chief Executive Officer, CyberGear said: "There are at present an estimated 2.3 million internet subscribers in the UAE with an almost 50 per cent internet penetration in the country. The web-designing and e-business industry in the UAE is worth about $100 million (Dh367m) and is growing at an average of 70 per cent year on year. However, despite this phenomenal growth we believe that internet users in our part of the world are confused by the jargon surrounding them." CyberGear has come out with CyberSpeak, a 30-page document that simplifies the commonly used terms in the digital world. CyberSpeak has hundreds of definitions that explain the online world of business, technology, e-marketing and communication including a large collection of internet acronyms.
Going into the reason for coming out with this document Agarwal said: "We have been in this part of the world for the past 13 years. As a leading web technology company in the region we have designed and developed websites and e-business applications along with several web-based proprietary applications for human resources and online recruitment, newsletter design, distribution and tracking application, online media monitoring, e-CRM for real estate companies, XML-based news delivery application, online ticketing application with bar-coded interface, computer graphics content management system, banner advertising software, e-marketing campaigns and interactive mapping solutions, among other things.
"So we have been exposed to all kinds of businesses here whether it is multinationals, regional companies or government organisations. It was during our interaction with businesses that we realised people don't understand jargon and get confused by it.
"CyberSpeak is one of our initiatives to educate the marketplace and make people more internet savvy. CyberSpeak demystifies the web. Techno babble such as captcha, tag clouds, cookies and web 2.0 are explained in layman's terms. We have researched and compiled this document and hope that it will be useful for both individuals and organisations in understanding the working of the internet and in turn help their businesses."
Cyber speak
ActiveX
A set of technologies created by Microsoft to enable interactive content on websites. With ActiveX, websites can be animated using multimedia effects, interactive objects and sophisticated applications that create a user-experience comparable to a high-quality CD-ROM.
Ajax
Asynchronous JavaScript and XML is a technique allowing a web page to request additional data from a server without requiring a new page to load or an existing page to refresh. Ajax is used in Google Maps and bbc.co.uk homepage to name but two.
Captcha
A Captcha is a type of challenge-response test used in computing to ensure that the response is not generated by a computer. The process usually involves one computer asking a user to complete a simple test that the computer is able to generate and grade. Because other computers are unable to solve the Captcha, any user entering a correct solution is presumed to be human.
Click-Through Rate
The response rate of an online advertisement, typically expressed as a percentage and calculated by taking the number of click-throughs the ad received, dividing that number by the number of impressions and multiplying by 100 to obtain a percentage. CTR is a major measure of internet-ad campaign effectiveness and provides a basis for comparison of creatives.
CMS
Content Management Systems are applications that allow a variety of people to work on a website, editing or adding content in plain language, without the need for HTML coding skills. Usually achieved with a web browser and using embedded word processors.
GUI
Graphic User Interface – the readily accessible graphical user interface featuring windows, icons or menus. The most significant development in computer accessibility, whereby operations could be undertaken by the click of a mouse rather than the input of a tedious keyboard command.
Hit
A hit is the sending of a single file whether an HTML file, an image, an audio file, or other file type. Since a single web page request can bring with it a number of individual files, the number of hits from a site is a not a good indication of its actual use (number of visitors). It does have meaning for the website space provider, however, as an indicator of traffic flow.
IA
Information Architecture – the essential plan of a website and its pages including the web tree and wire frames determining the structure and content of a site before the design process establishes the creative look and feel. Basically the belt and braces of a site build.
Interstitial Ads
Webpages that pop up between what the viewer is looking at and what they are expecting to get. More like a television commercial than anything else on the web.
Moss
Microsoft Office SharePoint Server (Moss) 2007 is an integrated suite of easy-to-use server applications that provides a single platform to manage intranet, extranet and website applications.
Web 2.0
The term 'Web 2.0' describes the changing trends in the use of World Wide Web technology and web design that aim to enhance creativity, communications, secure information sharing, collaboration and functionality of the web. Web 2.0 concepts have led to the development and evolution of web culture communities and hosted services, such as social-networking sites, video sharing sites, wikis, blogs and folksonomies.
Sticky
Term for sites where visitors stay for extended periods of time. For example, a site with a game or greeting card composer encourages people to stay and use the feature, rather than going elsewhere.
Open Source
In general, open source refers to any programme whose source code is made available for use or modification as users or other developers see fit. Historically, the makers of proprietary software have generally not made source code available. Open-source software is usually developed as a public collaboration and made freely available. The Apache Web server software is a good example of this.
Follow Emirates 24|7 on Google News.
In today's world if you are not in the fast lane on the information superhighway or are baffled by the technical jargon used by the tech savvy users then you risk being left behind and this can harm your business interests.