DIC sees entry of more Indian firms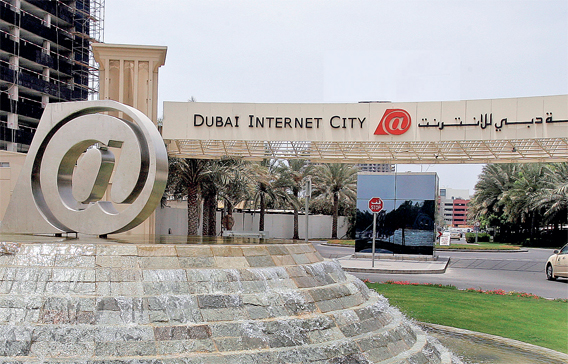 Dubai Internet City (DIC) expects to see a higher number of IT companies from India coming to the UAE this year, according to a senior executive.
DIC, one of the region's largest managed ICT (Internet and Communication Technology) clusters and part of Tecom Investments, saw 135 new companies register and set up offices in 2009 – including Indian outfits such as Sonata, HCL and Tata Communications.
"Despite the global recession, we had more new companies registering last year than in 2008," Executive Director Malek Sultan Al Malek told Emirates Business.
"European and US companies have a large presence and we are still talking to them. But big IT Asian companies in both the telecom and IT segments are now seeing the potential in the region. This is especially true with India as we expect more companies to set up offices in DIC. When these companies come, they bring their surrounding businesses along with them."
"There has also been business consolidation among our partners as they expanded their present offices and took new premises. IBM expanded its operations while Cisco took up new offices. Google is expanding and Nokia Siemens tripled its operations.
"Therefore, sustainable growth has been maintained and we want to continue on this track. When companies venture into the market, they mature with the market and don't tend to leave the region."
Al Malek said less than three per cent of IT companies closed down their operations last year.
To ensure that companies stay, Al Malek said it was necessary to maintain the correct IT environment. The cluster, which was previously described as a real estate project, had managed to change its image and project itself as an ICT hub.
DIC has managed to maintain its lead in the region mainly because of its unique position as an IT park.
"The original concept of an IT park wasn't common globally when we were set up. Silicon Valley was generally known but that was about one company operating from one area. The concept of a managed park serving IT companies was new. In 1999, it was unique and with the downturn from the dotcom burst, DIC had first mover advantage. Many IT parks locally and globally were able to learn from our experience."
Developing infrastructure, a legal framework and a one-stop-shop service and understanding the requirements of IT companies were essential. DIC as a free zone environment offered advantages and as a result ICT companies wanted to come and set up bases there.
For a long time DIC was viewed by the media as just another real estate development rather than an ICT hub. But, Al Malek said, the cluster took responsibility for the IT companies that moved there.
"We have built up and taken responsibility for building an ICT cluster and while building it, we played the role of a real estate developer as the infrastructure had to be built. IT, along with government services, had to be provided in one area. I don't blame reporters or individuals who pointed fingers at the project."
More than 1,300 ICT companies now operate from the free zone. "These players haven't moved to other free zones and many of them started small as SMEs and have grown bigger. This has helped the ecosystem to grow."
The Dubai brand also helped DIC to change perceptions and grow, said
Al Malek. "As a corporate, you need facilities such as the airport, IT and telecom infrastructure not just another industrial cluster. The access to the MEA region has also helped Dubai and the cluster to grow," he said.
Changing the perception from a real estate project to an ICT cluster was the major challenge for DIC. For any industry to become mature, it has to evolve and ecosystems have to work.
"The sustainability of such a project was not clear to many people. As DIC was one of the first projects of its type, there were questions whether such a project would be successful in Dubai. This was a challenge for the cluster."
DIC was later seen as a sales and marketing hub and then a real IT park. Last year, with the acquisition of Maktoob and Intel's investments, it set an example for the industry.
Activities such as Microsoft Tech Ed focused on technical education in at DIC. Demo camps for developers made the industry realise that pure technology could be created in the region. As a whole the ICT industry is still growing and the viewpoint on the local development of technology will not change for a long time.
"This will continue for a long time till the industry becomes self-sustainable and realises the benefits Europe and America have had from local development."
Despite these challenges, DIC, which started with four buildings and 100 companies, has able to maintain its annual growth rate of 20 to 30 per cent.
"We also partnered with tech giants to build their own buildings to meet their own specifications and telecom requirements," said Al Malek.
The cluster did not want to specialise in a particular category of the IT segment.
"Today, we are in a position to think about opportunities in Arabic content, encouraging entrepreneurs and conduct sessions such as the demo camp."
He said DIC saw great potential for data centre services and planned to work closely with eHosting DataForm, Tecom's IT services company.
"There is a definite need for data centre services among our customers and we would want to work with our sister company on this front. They have made significant investments on this front and we would want to utilise that."
It's not surprising that the cluster sees potential in data centre services as it has moved completely online in terms of customer services.
On the services front, the cluster made special provisions in 2009 in response to the global crisis. DIC helped companies to cope with the global recession by offering smaller firms payment flexibility and larger ones amendments to long-term agreements.
"It was essential to understand their requirements on an annual basis. As there are companies operating from a desk and large MNCs, it is important to offer different service level platforms."
Fact sheet
- October 31, 1999: His Highness Sheikh Mohammed bin Rashid Al Maktoum, now Vice-President and Prime Minister of the UAE and Ruler of Dubai, announces plans to build Dubai Internet City (DIC)
- October 28, 2000: Sheikh Mohammed officially opens DIC
- The DIC community started with 100 companies and now has more than 1,300
- Global ICT giants with offices at the cluster include Microsoft, Oracle, HP, IBM, Dell, Siemens, Canon, Logica, Sony Ericsson, Schlumberger and Cisco
Keep up with the latest business news from the region with the Emirates Business 24|7 daily newsletter. To subscribe to the newsletter, please click here.
Follow Emirates 24|7 on Google News.