Du posts Dh528m profit, to invest Dh2.2bn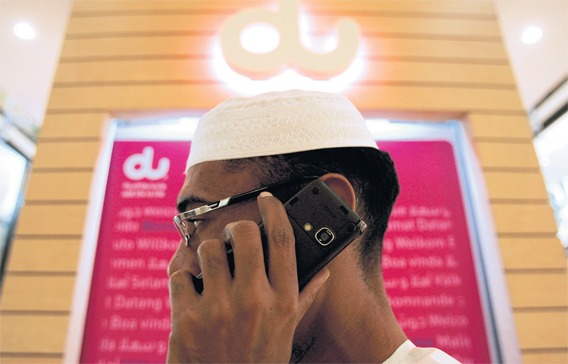 The UAE's second telecom service provider, Emirates Integrated Telecommunications (du), has reported net profit before royalty of Dh528 million for the year ended December 31, 2009, against Dh 8 million for the corresponding period last year.
Du said net profit before provisions for a 50 percent royalty fee on profits rose to Dh209m from Dh82m the previous year.
Du said it would invest up to $600m (Dh2.2 billion) to boost its network in 2010 after its fourth-quarter net profit more than doubled on a surge in mobile users.
"Over the year, we have added a further 1.01 million customers with our total active subscriber base at 3.47 million," Chief Executive Osman Sultan said in a company statement.
Du has made provisions every quarter for a 50 percent royalty fee paid to the government on its profits as it waits for the UAE regulator to decide on the rate. A decision was expected in late 2009 but it did not come.
Sultan said the provisions for the 50 per cent royalty fee – the rate du's competitor's pay – would continue in 2010 as no decision had yet been made by the UAE Government.
The company, which started operations in 2007, invested about Dh2.4bn in building its mobile, broadband and fixed network last year and has an investment programme exceeding Dh2.2bn for 2010, the chief executive officer of the firm said, adding that the company was in talks for "lender financing" to raise the Dh2.2bn for the investment programme. He declined to give further details.
Sultan said the firm would benefit from mobile portability in 2010 as it aims to increase its market share beyond 30 per cent. He said the formalisation of an infrastructure sharing agreement would enable it to expand more aggressively to other emirates beyond its primary market in Dubai.
"We have not slowed our investment because we were in a crisis," Sultan said. "On the contrary, this was the time to grow."
On the extension of fixed line services, Sultan said: "The fixed services will be made available to other parts of UAE as it needs some clarifications and instructions from the TRA.
"There is one part of the fixed infrastructure operated by du while etisalat owns rest of the physical infrastructure. We have to open up as operators and this will start progressing outside of our territory in the second half of 2010."
Du has planned to spend Dh 2.2 bn in 2010 and therefore invest in mobile network, fixed lines and also enter joint ventures in the internet and digital world. (With inputs from Agencies)
Keep up with the latest business news from the region with the Emirates Business 24|7 daily newsletter. To subscribe to the newsletter, please click here.
Follow Emirates 24|7 on Google News.