Etisalat posts full-year net profit of Dh8.836bn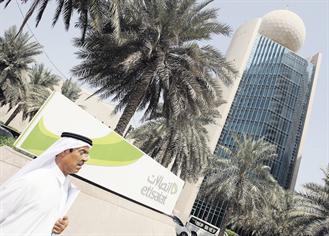 Emirates Telecommunications Corporation (etisalat), the UAE's largest telecom service company, posted a full-year profit of Dh8.836 billion against Dh8.511bn for the previous year, according to a company statement.

The preliminary consolidated financial results said the net profit included profit on sale of shares in Mobily of Dh892 million after federal royalty. "Excluding this exceptional item, the net profit after federal royalty for the year 2009 would have increased by Dh1.217bn which is 16 per cent higher than 2008," the statement added.

"The comparative results for the financial year 2008 have been adjusted to comply with 'international financial reporting standards' that have been adopted for the first time in 2009 financial year. This has been effected to facilitate a direct comparison with year 2009 international financial reporting standards' results," it said.

The company recorded net revenues of Dh30.831bn for the group in 2009 compared to Dh29.360bn in 2008, an increase of five per cent. Total assets for the group increased by 13 per cent to Dh40.389bn compared to Dh35.620bn in 2008.

Earnings per share for 2009 are Dh1.23 against Dh1.18 in 2008. Earnings per share for the year 2008 were adjusted for bonus shares issued during year 2009.

"During the past two years, etisalat has continued its strategy of developing new sources of income. We have achieved this by introducing new packages and services which have had the desired effect of sustaining our growth even despite the high penetration level within the country, which today is one of the highest in the world. We have also been successful in reducing our operational expenditure, which further enhances our performance," said Mohammed Omran, Chairman of Etisalat, in the statement.

"The number of mobile users in the UAE has exceeded 7.74 million lines in 2009, with an increase of six per cent against the same period in 2008. Fixed-line subscribers reached 1.31 million and etisalat's internet subscriber base grew 16 per cent over the year reaching 1.33 million in December 2009," Mohammed Khalfan Al Qamzi, CEO, said. "Etisalat also continued to develop its mobile networks in 2009. The 2G network covers 100 per cent of the UAE, while 3G networks cover 99.5 per cent of the populated areas. We continue to invest in the human resources," he said.
Keep up with the latest business news from the region with the Emirates Business 24|7 daily newsletter. To subscribe to the newsletter, please click here.
Follow Emirates 24|7 on Google News.