Etisalat to pay 60% dividend, 10% bonus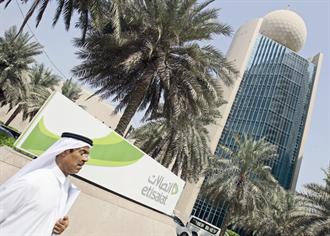 Emirates Telecommunications Corporation (etisalat) said its board recommended a cash dividend of 35 per cent of the face value of its shares for the second half of 2009.

With 25 per cent cash dividend announced for the first half of 2009, the total dividend works out to 60 per cent for the year.

The board also recommended distributing one bonus share for every 10 held, according to a company statement.

"Etisalat's financial results during 2009 met expectations. We achieved excellent results both financially and operationally in all our markets. Etisalat now provides services in 18 markets across the Middle East, Africa and Asia," said Mohammed Hassan Omran, Chairman of etisalat, in the statement.

Etisalat has recorded a net revenue of Dh30.8 billion, an increase of five per cent over 2008 results. Net profit recorded for the group in 2009 was Dh8.8bn compared to Dh 8.5bn in 2008, which included profit on sale of shares in Mobily of Dh892m after federal royalty. Excluding this exceptional item, the net profit after federal royalty for the year 2009 would have increased by Dh1.2bn, which is 16 per cent higher than 2008.

Etisalat achieved large growth in the number of customers across its international footprint, which now total 100 million, the statement said.

The company is currently studying opportunities in new markets, he said. He also noted that the company was achieving growth in these countries due to population, penetration rates, and the opportunities of providing added value for the communities. Etisalat is also looking at the impediments to purchase capacity, achieve operational efficiency, acquire telecom infrastructure, and the general investment attraction in these countries. New potential markets include Arab countries and nations in Asia, Africa and the Middle East, he said.

In the year 2009, etisalat has seen an outstanding operational performance that led to growth in all its business areas in the UAE. The number of mobile users has reached 7.74 million, a growth of six per cent over 2008. Fixed-line subscribers also increased to 1.31 million. The internet subscriber base reached 1.33 million, with an increase of 16 per cent over 2008 results.

The chairman also announced three new initiatives that will be implemented by the company in 2010.

Etisalat will raise the percentage of UAE nationals among its employee by opening doors to them to fill in current vacancies.

The second initiative complements etisalat's achievements in the community.

Etisalat will launch etisalat Foundation, through which etisalat will funnel its support to community activities and events.

The third initiative is customer service. Year 2010 is to be considered the year of excellence in customer service. The initiative aims to launch new services and packages to provide added value for etisalat customers.


NO NEED TO OFFER BONDS
Etisalat Chairman Mohammed Hassan Omran said the company's financial position is very strong and it does not need to offer bonds at present.

"Currently, we have a cash flow estimated at Dh10 billion. This amount increases and falls according to our projects and expansions. We have sufficient funds and we do not need loans.

"We have a plan for the next three years to make the group's external branches contribution account for 20 per cent of the total revenues. Mobily in Saudi Arabia currently makes profits and Etisalat Egypt will make profits for the first time this year. Our aim is not the generation of profits, but external expansion.

"We have long-term investments and etisalat concentrates on expansion outside the country, especially in Malaysia. We also will operate our services in Indian market in next month.

"Etisalat will complete in current year 60 per cent of fibre optic network, and 90 per cent of the network will be complete in the next year at UAE level. We will have 500, 000 users of the fibre optic network in the middle of current year.

He also said the company is not looking at buying a stake in Kuwait's Zain.
Keep up with the latest business news from the region with the Emirates Business 24|7 daily newsletter. To subscribe to the newsletter, please click here.
Follow Emirates 24|7 on Google News.