Gen-M education to transcend classrooms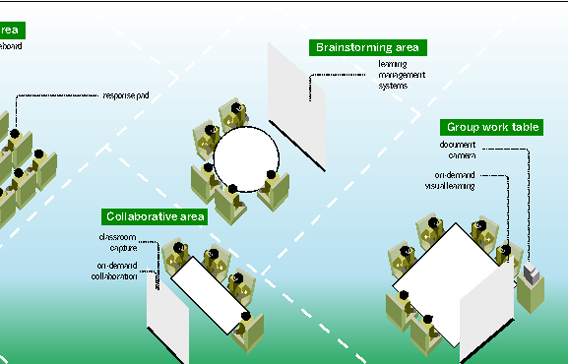 With technology changing the world as we know it, have you ever wondered what the classrooms of the future will look like?
Well, if the techies and panelists at the ongoing Gulf Educational Supplies and Solution 2010 (Gess) are to be believed, classrooms in the future will look more like a cyber-café with individual open-ended cubicles, multiple projection screens and writable walls. Generation M (Gen-M) students will have tablets which they will use for note taking, accessing content such as textbooks, videos and lecture notes.
Shameema Parveen, Co-founder and Knowledge Officer, Edutech, told Emirates Business: "The future classrooms while still incorporating the traditional design of lecture style layout will also include elements of layout for collaboration, group or pair work, with flexible layout furniture that will be easily reconfigurable and assembled for different kinds of learning activities such as individual learning or group/pair work or lecture style participation.
"Movable teacher station, multiple projection screens with writable walls will be used for student activities.
"Students will have personal computers or tablets which they will use for note taking, accessing content such as textbooks, videos and lecture notes."
Classrooms of the future will also not be limited to the four walls but will extend into the outside world and online so a physical and virtual ecosystem will evolve to become classrooms without walls.
Panelist Mark Hensman, COO, Harrow International, added: "Classrooms of the future will be a lot different from what we have now. They will be large with lots of open-ended cubicles, such as small lounges, all interspersed in an open plan. They will be like internet cafes that look more like a café than a classroom.
"The whole facility will be wireless with huge bandwidth. These nested spaces will be set up in an informal way furnished with bean bags and coffee tables so that students can work online."
Explaining why schools are using so much technology these days, Wilson Xavier, Windows Client Business Group Lead, Microsoft Gulf said: "Our fast-changing knowledge-based economy has created unprecedented challenges for employers and workers alike. Employers increasingly need workers with a broad range of information technology (IT) skills. These skills will become even more important as we continue to retool major sectors of our economy such as healthcare, transportation and energy."
By 2014, more than three-quarters of all jobs in the United States will require some level of computing or technology skills, and the vast majority of newly created jobs will require post-secondary education or training. According to experts, the driving factors in developing a 21st century school are the same as those driving the world around us – forces such as globalisation, commercialisation, consumerism and cybernisation.
These have all coincided with the emergence of a new way of thinking called post-modernism. Facilitated by the technologies that have made virtual worlds a reality, young people are now able to create and control their own social and recreational worlds which increasingly mirror the world of work.
There are many dynamics that are driving factors to reform in schools. Skills such as critical thinking, analytical thinking, creative thinking, collaboration, teamwork and communication skills are required by organisations when recruiting job candidates. Shameema added: "For students to develop such skills, we need to move from a rote learning concepts and 'I teach – you listen' methods to more of an active and participatory learning method where learners take the responsibility for learning and are engaged participants rather than passive observers. More importantly, the skill we need our students to have is 'learning to learn' as in today's knowledge economy, we are constantly required to learn, unlearn and relearn."
Hensman added: "Schools will soon be forced into the information age. Far from being traumatised by the 'future shock', today's generation will suffer 'past shock' in their schooling experience if schools are not able to more effectively integrate the world of their reality with the world in which they learn."
COMING SOON: TECHNOLOGICAL INNOVATIONS
Some new technological innovations in education are being researched and used in experimental settings too.
INNOVATION: Simple augmented reality (AR) is mashup between elements of a physical real-world environment with virtual computer generated imagery.
BENEFIT: AR in books has a number of interesting applications in learning. For example, books can be printed normally, after purchase users install special software on their computers or point a device such as a mobile phone on the book to see visualisations such as a globe spanning and zooming into 3D views of geographic locations, or an animation coming alive from a still picture on the book.
INNOVATION: Gesture- based computing that is already a reality in consumer market may come into the education mainstream in the next five years.
BENEFIT: Gesture-based computing will allow students to interact with content and their learning environments using their natural movement which lets them focus on learning rather on learning to use the technology.
Keep up with the latest business news from the region with the Emirates Business 24|7 daily newsletter. To subscribe to the newsletter, please click here.
Follow Emirates 24|7 on Google News.