Google denies leaving China, seeks talks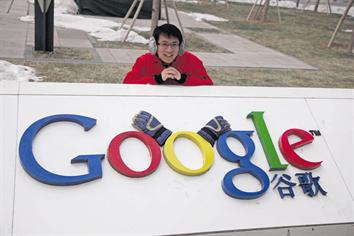 Google has entered a second week of high stakes brinkmanship with China's government, amid speculation the firm has decided to pull out of the world's biggest internet market over cyber spying concerns.

Google, the world's most popular search engine, said last week it was thinking about quitting China after suffering a sophisticated cyber attack on its network that resulted in theft of its intellectual property.

The company has said it is no longer willing to filter content on its Chinese language google.cn engine, and will try to negotiate a legal unfiltered search engine, or exit the market.

Most of the filters on google.cn were still in place yesterday, though controls over some searches, including the June 4, 1989, Tiananmen crackdown, appear to have been loosened.

The Google announcement captured the attention of China's 384 million netizens, the world's largest internet market by users, with blogs and media quoting unnamed insiders as saying Google has already decided to close its offices in China.

Google has denied that, saying the company is still in the process of scanning its internal networks since the cyber attack in mid-December. Google also said it would hold talks with the Chinese government over the next few weeks.

China has tried to play down Google's threat to leave, saying there were many ways to resolve the issue, but insisting all foreign companies, Google included, must abide by Chinese laws. Washington said it is issuing a diplomatic note to the Chinese government formally requesting an explanation for the attacks.

The Google issue risks becoming another irritant in China's relationship with the US, already strained by arguments over the Chinese currency's exchange rate, trade protectionism and US arms sales to Taiwan. Washington has long been worried about Beijing's cyber-spying programme. A congressional advisory panel said in November the Chinese government appeared increasingly to be penetrating US computers to gather data for its military.

When Google introduced its google.cn website in 2006 with the decision to self-censor searches, it said the move would benefit the Chinese people by expanding access to information.

"We think we have made a reasonable decision, though we cannot be sure it will ultimately be proven to be the best one," a top level Google spokesman told the US Committee on International Relations in 2006.

Google's move to publicly denounce censorship and accuse Chinese hackers of launching an attack that resulted in the theft of its intellectual property was seen as a bold move.

"We have never seen a company take on the Chinese government in such a public and confrontational manner," said James McGregor, senior counsellor to public affairs consultancy Apco Worldwide.

But it may backfire as signs emerge the firm has already damaged its prospects in China regardless of whether it carries out its threat to quit the country.

JPMorgan analyst Dick Wei said he thinks Google's relationship with the Chinese government is already strained and if the firm decides to stay, it could be subject to tighter regulations.

UBS analyst Wang Jinjin also believes Google's relationship with advertisers has been damaged as a result of the threat and that they will choose Baidu over the firm.

On Saturday, Yahoo was dragged into the growing controversy after its Chinese partner Alibaba Group slammed its statements supporting Google. Playing down the concerns raised by Google, rival Microsoft said it had no plan to pull out of China. 
Keep up with the latest business news from the region with the Emirates Business 24|7 daily newsletter. To subscribe to the newsletter, please click here.
Follow Emirates 24|7 on Google News.