Google launches Nexus One in an iPhone challenge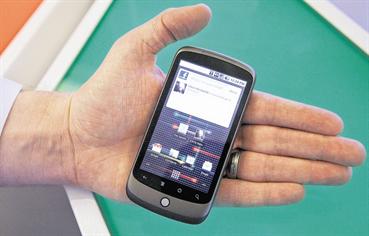 Google unveiled its new Nexus One smartphone yesterday in a direct challenge to heavyweight Apple's iPhone handsets.

Nexus One smartphones are built on the same Android 2.1 software that runs Droid smartphones that recently hit the market with innovations like 3D graphics, according to Tseng.

The handsets feature new speech command capabilities that allow users to speak e-mails, text messages or internet search queries.

Nexus One devices can provide turn-by-turn spoken driving directions from a Google mapping program.

Google launched its own online store at google.com/phone where the Nexus One will be sold.

"This is really a Google phone," said interpret analyst Michael Gartenberg.

"A lot of the Android phones that came to market are kind of lackluster. One of the ways to avoid mediocrity is to kick things up a couple of notches yourself."

Nexus One smartphones will be sold at the Google-hosted web store for $529 "unlocked," without ties to a telecom carrier.

Nexus One handsets will be offered starting at $179 if paired with T-Mobile service contracts in the United States. Google has made "strategic partnerships" with telecom firm Verizon in the United States and Vodafone in the European market. The Google's Nexus One devices linked to service from Verizon in the US and Vodafone in Europe should be available by mid-year.

Google said it will ship Nexus One devices to buyers in Singapore, Hong Kong, Britain and the United States. The Google smartphones are designed to work with a variety of telecom carrier networks. "You can take out your SIM card from any provider and put it in the phone," said Google Vice-President of Product Management Mario Queiroz.

The internet search and advertising giant has a foothold in the market with its Android mobile operating system, featured in more than 20 phones since starting with T-Mobile's G1 in October 2008. "Google made it very clear that all Android devices are created equal, but some devices are created more equally than others," Gartenberg said.

"They've raised the bar for their partners and they've tried to raise the bar for the ecosystem. They've clearly shown how they want to be a player," he said.

Analysts have expressed concern that Google's move could irk partners backing handsets based on the internet firm's open-source Android software.

"I don't see it as a threat," said Sanjay Jha, Chief of mobile devices at handset titan Motorola, which recently brought to market a Droid smartphone based on Android software.

"I think the Nexus One is a good phone. I think we will upgrade Droid to the software available on Nexus One." Chou and Jha said they support Google's new phone and web store as a "healthy" expansion of the mobile phone ecosystem.

Google executives sidestepped questions about whether the Nexus One is intended as an "iPhone killer," but acknowledged it should prove a powerful competitor. Like iPhones, Nexus One devices feature "accelerometer" capabilities allowing images or games on handsets to be controlled with twists or turns.
Keep up with the latest business news from the region with the Emirates Business 24|7 daily newsletter. To subscribe to the newsletter, please click here.
Follow Emirates 24|7 on Google News.