Infected PCs on the rise in the Middle East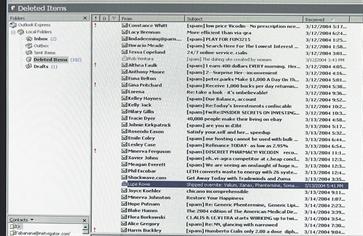 Increasing dependence on the web and online transactions have led to an increase in spam and infected computers in the Middle East, according to experts.

"The most affected are banks and government organisations who are being troubled by Trojans. As a lot of credit card and other critical information is stored, many such applications become vulnerable to these worms," said Sheik Abideen, Head of Business Development at Paramount Computer Systems, an IT security services provider in Dubai.

"Nobody is writing viruses anymore; it's more of Trojan horses targeted at financial organisations. The intention is malicious – to generate Trojans and worms. Trojans are small programmes sitting idle in machines, which are activated when required," he added.

This is brought out by the fact that several internet content security providers have cleaned thousands of computers in the region in the past few months. One such company, Trend Micro, cleaned more than 350,000 computers in the Middle East last month alone. Saudi Arabia has seen more than 288,134 infected computers cleaned, while in the UAE 71,408 infected computers have been fixed. As the UAE and Saudi Arabia have the highest usage of PCs this is said to be the reason they are so vulnerable to being infected by worms and spam.

With more than 115 billion spam messages being generated globally on a daily basis, the web has evolved to become a primary threat-infection medium for modern-day attacks. Spam and worms also get easy access when machines are not scanned and when customers do not update their systems.

"When a system is not updated the consumer does not receive the security patch sent by the vendor. Therefore the PC and server are not identified. Spam has now become a nuisance, especially since 2007, eating bandwidth and causing wastage of time to remove the spams," said Abideen.

The Middle East accounts for 3.56 per cent of global spam with the UAE ranking the highest followed by Saudi Arabia, according to a recent report from Trend Micro. The company cited 2009 as the year that will witness the highest number of infected PCs worldwide, with many of them in the Middle East. "Regular scanning of machines should be a top priority," said Samir Kirouani, Technical Manager, Middle East and Africa, Trend Micro. "Our dependence on the web raises our vulnerability. Most of us are not even aware of our machines being compromised."
Follow Emirates 24|7 on Google News.